News story
Dates for petitioning HS2 hybrid Bill (London – West Midlands) announced by Parliament
HS2 hybrid Bill petitioning dates released.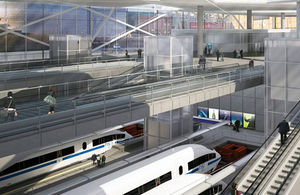 Parliament has today (10 April 2014) published the proposed dates for the formal period for petitioning against the HS2 hybrid Bill. The Leader of the House of Commons, Andrew Lansley, has also confirmed the date for the Bill's Second Reading debate in the House as 28 April 2014.
All those directly or specially affected by the first phase of HS2, from London to the West Midlands, will - if the Bill secures its Second Reading - be able to submit petitions (objections) against the Bill during the petitioning period.
The process provides individuals, groups and organisations an opportunity to oppose the Bill or to seek its amendment before a specially-convened Select Committee in either or both Houses.
Local authorities, excluding parish councils, and businesses will have from 29 April to 16 May to deposit their petitions. Individuals and all other petitioners will have a further week, until 23 May.
Comprehensive guidance on petitioning is available from the House of Commons Private Bill Office and the Parliament website
The primary purpose of the Bill is to secure the powers required to construct and operate Phase One of HS2. HS2, a national high-speed rail network linking Birmingham, Manchester and Leeds with London, will transform the UK – bringing cities together, delivering jobs and growth, and providing a long-term solution to the capacity crunch facing the existing rail network.
The First Reading of the High Speed Rail (London – West Midlands) Bill took place on 25 November 2013 in the House of Commons.
HS2 and major projects media enquiries
Press enquiries 020 7944 3021
Out of hours 020 7944 4292
Switchboard 0300 330 3000
Published 10 April 2014