Press release
Dairy farm fined for pollution offence
A Somerset dairy farm has been ordered to pay £9,425 in fines and costs for allowing dirty water to escape from a storage lagoon.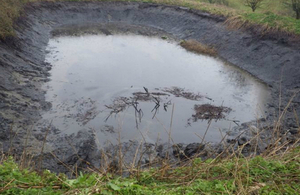 The case was brought by the Environment Agency.
On 4 April 2016 the Environment Agency visited Clandown Farm, Pows Hill near Radstock to investigate a report of slurry pollution. The source of the pollution was not found, but an officer later discovered dirty water leaking from the base of a lagoon used to store milking parlour washings. The lagoon, that had earth banks and a clay lining, also contained dirty water from the farm yard.
Instead of repairing the lagoon, the farm operators, Brunt Partners, had installed a drain to carry the leaking liquid away to a soakaway in a nearby field where it could cause pollution and possibly contaminate groundwater.
Appearing before Bath Magistrates, Brunt Brothers were fined £5,000 and ordered to pay £4,245 costs after pleading guilty to an offence under the Environmental Permitting Regulations of causing or knowingly permitting an illegal discharge of dirty water. The penalty reflected the fact the discharge to the soakaway was deliberate and the pollution had continued over a prolonged period of time.
The operators have since repaired the storage lagoon and improved drainage at Clandown Farm.
Andrew Grant, for the Environment Agency, said:
Slurry and dirty water lagoons can cause serious pollution. This case shows how important it is for farm operators to invest in and adequately maintain these structures to prevent illegal discharges that can harm the environment.
Magistrates heard there had been previous pollution incidents at Clandown Farm. In 2013 a slurry wall collapsed and a large amount of slurry escaped into the Wellow Brook.
The case was heard on 22 December 2016.
Published 5 January 2017