Press release
Dadabhai Naoroji Awards: one week left for nominations
The Deputy Prime Minister Nick Clegg is asking the Indian community for nominations for the prestigious Dadabhai Naoroji awards.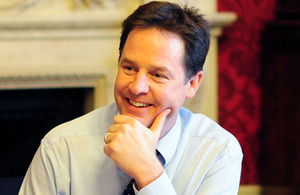 The Deputy Prime Minister, Nick Clegg, is calling on the Indian community to nominate colleagues, family or friends for the new Dadabhai Naoroji Awards, to celebrate individuals who have made an outstanding contribution to relations between India and the United Kingdom.
The awards, which were launched by the Deputy Prime Minister during his trade mission to India in August, are dedicated to Dadabhai Naoroji, the first Asian Member of the British Parliament and the man who brought the first Indian business to the UK.
There is just a week to go to nominate someone you know who has made an outstanding contribution to UK-India relations in the fields of commerce, culture or education.
Nominations close at the end of Tuesday 30 September.
The 2014 winners will be invited to receive their awards at a reception at the Foreign and Commonwealth Office in London in October.
The Deputy Prime Minister said:
The commercial and cultural links between India and Britain – our businesses, our universities, our friends and families – go back centuries, and are as vital to both countries as they have ever been. I know there are thousands of people in this country who had dedicated themselves to enhancing this new special relationship between our 2 countries.

It's about time some of these extraordinary individuals were recognised by the British government, and that is why I launched the Dadabhai Naoroji Awards during my trade mission to India in August.

It is a great honour to name the awards after the Grand Old Man of India, one of my political heroes. Dadabhai challenged prejudices and obstacles wherever he went, and his achievement of being elected as the first MP of Asian origin cemented his place in British history. He is celebrated for his achievements in India and in the UK, and it is fitting that we should name these awards after him.
About the awards
The awards are named after Dadabhai Naoroji (1825-1917), who in 1892 became the first Asian member of the British Parliament when he was elected MP for Finsbury Central. Born in Mumbai, he was a respected intellectual and mentor of prominent Indian politicians, including Mohandas Gandhi.
UK and India
The Deputy Prime Minister led a trade mission to India on 26 to 28 August, spending a day each in New Delhi, Mumbai and Bangalore. He took with him a 40-strong delegation of businesses and educational institutions looking to take advantage of the opportunities presented by the new Indian government's focus on economic growth. In New Delhi, he met the Indian Prime Minister, Narendra Modi, and Finance Minister Arun Jaitley. Mr Clegg was joined in New Delhi and Mumbai by Ed Davey, UK Secretary of State for Energy and Climate Change.
The UK-India relationship is a genuinely 2-way relationship of vital importance to both countries. For instance:
last year the UK invested $3.2 billion in India, more than any other G20 country and more than Japan ($1.7 billion) and the US (just under $1 billion), who are ranked second and third respectively, combined
aggregating all investment over the last 14 years, the UK still ranks first among the G20 and accounts for around 10% of all investment into India over this period
India is the seventh largest investor in the UK and invests more in the UK than it invests in the rest of the European Union combined
Published 23 September 2014