News story
Cycling boost for Selly Oak rail station
Cycle facilities at commuter station in West Midlands improved.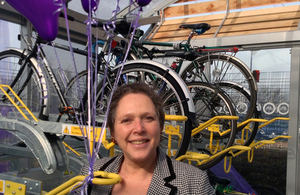 Transport Minister Baroness Kramer today (13 March 2014) unveiled the new cycle storage unit at one of Birmingham's busiest commuter stations.
Commuters in Selly Oak are getting a safe place to lock up their bikes at the station thanks to new facilities funded as part of the government's £14.5 million Cycle-Rail Fund, set up to encourage more journeys by bike and rail.
The cycle hub at Selly Oak railway station offers a secure location to keep bicycles while protecting them from the elements and is monitored inside and out by CCTV cameras.
Baroness Kramer said:
It is fantastic to see these facilities delivering environmental benefits while helping people keep fit. If we are serious about helping people to make greener journeys, we need to make it easier. This new cycle hub does just that, allowing people to securely store their bike at the station and take the train knowing their bike is safe.
The hub was designed to be low-maintenance and adaptable as possible, allowing it to be used at stations across the region where cycling is a popular mode of travel.
The new facilities are part of a wider programme to encourage more people taking train journeys to cycle to the stations where they will catch the train.
Cllr Judith Rowley, transport authority Centro's lead member for green and accessible transport, said:
It is important that we provide the infrastructure people need to keep bikes safe and sheltered if they choose to cycle to and from their local station.

This is the first time we have installed one of these unique cycle hubs and plans are already underway for Longbridge, Stourbridge and Rowley Regis to have their own fitted.

This is just one step we've been taking to help connect cycling with other forms of transport and we are working closely with Birmingham City Council to look at other stations where we might be able to install hubs.
Access to the hub is available for regular cyclists using the station who sign up to the scheme.
Around 50 cyclists will be able to join initially and each will be issued with a unique swipe card providing 24-hour-access.
News desk enquiries
Media enquiries 020 7944 3021
Out of hours media enquiries 020 7944 4292
Switchboard 0300 330 3000
Published 13 March 2014