Press release
Cutting red tape for business improvement districts that help small shops and local traders
The Department for Communities and Local Government ends unnecessary red tape to support high street regeneration.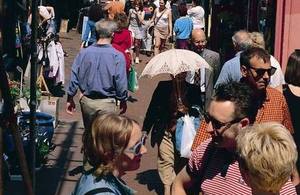 The department has today (1 October 2013) ended the cumbersome red tape which made it harder for local firms and traders to set up business improvement districts where high streets stretch across council boundaries.
The announcement comes on business 'Freedom Day' the day where government responds to red tape issues raised by reducing government interference so businesses have the breathing space they need to thrive.
The changes, which come into force on 7 October 2013 mean that business improvement districts will no longer need separate ballots in each authority where a business improvement district crosses with another local authorities' boundaries is proposed. Instead there will be a single ballot for the entire area.
Business improvement districts are a tried and tested approach, used in towns and cities across the world, to fund improvements in local trading areas and the new regulations. The potential for business improvement districts to successfully support town centres growth was outlined by Mary Portas in her review of High Streets.
The government is committed to support this model as a catalyst for high street regeneration and will detail how new business improvement district areas can get help with their start up costs through the £500,000 loan fund scheme later this year.
There are currently over 150 business improvement districts across the UK working on issues such as town centre safety, improvement of public realm, support for local traders and parking initiatives.
Local Growth Minister Mark Prisk said:
This government is setting business free from red tape to the tune of over £212 million a year so local traders can generate the kind of enterprise that is vital to our economic growth.

We have already stripped back bureaucratic planning rules and tackled unpopular parking practices that reduced parking spaces and increased parking charges that hold back the high street. In addition we have cut taxes for small shops across the country by tripling the total amount of business rate relief that is given out to £900 million.

Local communities and local businesses know what works best in their area. We know business improvement districts enable local businesses to realise their potential by successfully raising money to re-energise their high street and cutting unnecessary burdens on them will help more communities get started.
Further information
A business improvement district is set up as a private company, voluntary and business-led.
The top 5 cities with business improvement districts are New York (50+), Toronto (40+), Los Angeles (30+), Vancouver (20+) and Philadelphia/Cape Town (10+).
The role of business improvement districts in rejuvenating high streets is being tested by some of the Portas Pilots such as Bedford, Loughborough, Bedminster and Lowestoft.
Case study: Loughborough. The business improvement district in Loughborough is working to improve the trading environment in the town and particularly to improve the attractiveness of the high street. The 'Love Loughborough' Partnership has put in place projects such as the "Trial a Trade" scheme for new businesses and a loyalty card scheme for 1400 university and college students. They have invested in hanging baskets, offered free business recycling and negotiated free parking on Sundays.
Published 1 October 2013