News story
Cutting red tape committee meets for the first time
As the Deputy Prime Minister launched the "Your Freedom" campaign to change the balance of power away from the state, the Reducing Regulation…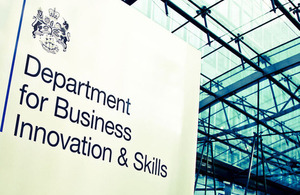 As the Deputy Prime Minister launched the "Your Freedom" campaign to change the balance of power away from the state, the Reducing Regulation Committee discussed its fundamentally different approach to regulation and began its major review of all regulations in the pipeline inherited from the last Government.
The Committee, which includes Chief Secretary to the Treasury Danny Alexander and Cabinet Office minister Francis Maude, will ensure that there is a robust case for any new regulations. It has the unprecedented power to send burdensome red tape back to Departments and also guarantees that all other options have been considered before more regulations are introduced.
Chair of the Committee, Business Secretary Vince Cable said:
"As the Deputy Prime Minister said today, we need to change the balance of power away from the state and back to individuals, businesses and communities. For too long, there has been a misplaced notion that Government's job is to regulate. That is not the case. Regulation should be the last resort.
"This committee, along with the new "challenge group", will help change the culture of Government and find new ways of solving problems, reducing the red tape that is strangling enterprise.
"We need businesses to drive the growth our economy needs, not be tied up with form filling, and the Government is determined to do all it can to make that happen."
Notes to Editors
---
1) Membership of the Reducing Regulation Committee is as follows:
Rt. Hon. Dr Vince Cable (Chair), Secretary of State for Business, Innovation and Skills;

Rt. Hon. Phillip Hammond (Deputy Chair), Secretary of State for Transport;

Rt. Hon. Caroline Spelman, Secretary of State for Environment, Food and Rural Affairs;

Rt. Hon. Danny Alexander, Chief Secretary to the Treasury;

Rt. Hon. Francis Maude, Minister for the Cabinet Office and Paymaster General;

Rt. Hon. Oliver Letwin, Minister of State for the Cabinet Office;

David Lidington, Minister of State for Europe;

Mark Prisk, Minister of State for Business and Enterprise; and

Steve Webb, Minister of State for Pensions.
2) The Reducing Regulation Committee will stress-test regulatory proposals making sure that only those of suitably high quality (for example meeting good regulation principles) and suitably high priority proceed.
3) 'One-In - One-Out' is a regulatory management system, whereby any new regulatory cost is compensated by cuts to the cost of old laws, and that the cut in regulatory cost must be greater than the cost of the new regulation.
4) The small "challenge group" will encourage an imaginative approach to non-regulatory alternatives to regulatory proposals presented by Departments to the Reducing Regulation Committee. The longer term aim would be to change the culture and for Departments to propose non regulatory solutions.
5) The "Forward Regulatory Programme" published in March by the Better Regulation Executive identified 200 new regulations that departments were planning to bring in between May 2010 and April 2011 with a cost of over £5 billion, and over 20 new regulations beyond April 2011 with individual costs of over £50 million and total costs of about £19 billion.
6) The Better Regulation Executive at the Department for Business Innovation and Skills, works across government to implement the regulation agenda and improve the way new laws and regulations are created, cutting away unnecessary red tape and being fair to business.
Please contact the Department for Business press office on 0207 215 3496 for more information.
__
BIS' online newsroom contains the latest press notices, speeches, as well as video and images for download. It also features an up to date list of BIS press office contacts. See http://www.bis.gov.uk/newsroom for more information.
Notes to Editors
Contact Information
Name BIS Press Office Job Title
Division COI Phone
Fax
Mobile
Email NDS.BIS@coi.gsi.gov.uk
Name Nick Evans Job Title
Division Department for Business, Innovation and Skills Phone 020 7215 3496 Fax
Mobile
Published 1 July 2010