Press release
Cutting-edge drugs to be fast-tracked to patients
State-of-the-art medicines will be fast-tracked to patients thanks to the Early Access to Medicines Scheme.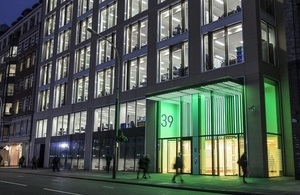 The scheme will make the UK one of the best countries in the world to capitalise on breakthroughs in medical care.
The Government is determined to strengthen Britain's science, research and development industry to as part of its long term economic plan.
Severely ill patients with life-threatening and seriously debilitating conditions will be offered the lifeline of trying ground-breaking new edicines years before they would normally reach them.
The Early Access to Medicines scheme will see doctors working with patients to make innovative and promising drugs available as soon the Medicines and Healthcare Products Regulatory Agency - the UK's regulator - has signalled that the benefits outweigh the risks following an initial scientific assessment.
The scheme is an important addition to the pharmaceutical sector, providing a platform for drugs to be brought to patients at a much faster rate than ever before. The companies will be able to gain experience of their medicines being used in the NHS and work closely with regulators to look at the value of the drugs, gaining guidance and advice much earlier in the regulatory process.
Health Secretary Jeremy Hunt said:
Making Britain the best place in the world for science, research and development is a central part of our long term economic plan. This ground-breaking scheme will provide cutting edge medicines earlier, give hope to patients and their families and save lives. And as part of our strategy for Life Sciences it will create more jobs and opportunities for people, helping secure a better future for our country.
Alongside the Early Access to Medicines scheme, the Department of Health has launched a bank of nearly 75,000 medical research volunteers to make it much easier for researchers to recruit people with specific conditions and a family history of conditions into research and trials.
The BioResource project, funded by the National Institute for Health Research (NIHR) and led from Addenbrooke's Hospital, part of Cambridge University Hospital', will focus on heart disease, dementia, infections and rare diseases and was developed as part of the UK's commitment to life sciences. It could speed-up the development of new treatments and attract international investment as a result of companies having access to a growing bank of tens of thousands of volunteers from across the country who are keen to help medical research.
Mr Hunt added:
Most people are only too happy to altruistically volunteer for medical research if it helps save lives and by linking them with researchers faster, NIHR BioResource will help increase the number of discoveries about diseases and how we can treat them.
The pioneering Early Access to Medicines scheme will be funded by pharmaceutical companies which develop innovative treatments, meaning patients will benefit from world-class breakthroughs at no cost to the NHS.
Once drug manufacturers have received a scientific opinion from the Medicines and Healthcare products Regulatory Agency, doctors will work with patients to prescribe the drugs when appropriate.
In return, the companies will be able to gain experience of their medicines being used in the NHS and work closely with regulators to look at the value of the drugs, gaining guidance and advice much earlier in the regulatory process.
As a result, the process of patient access will be speeded up and new drugs could be made available to patients months or sometimes years before the treatment is licensed.
Companies are expected to invest more in the UK as a result because of their increased confidence that they can work with doctors and patients to get experience of the new medicines and bring drugs to patients quicker. We expect charities and small businesses to also work together to develop new approaches to treating rare and life threatening diseases, which could include cancer, muscular dystrophy and dementia.
Investment in life sciences and genomics is already improving our understanding of disease and means treatments can be tailored to patients' individual genetic make-up - providing the right treatment to the right patient. It is expected that charities and pharmaceutical companies will harness this data to develop new drugs.
Harpal Kumar, Chief Executive of Cancer Research UK, said:
Time is of the essence for many cancer patients, particularly those with more advanced disease. It can mean the difference between life and death. Therefore this scheme, which has at its heart the potential to bring promising new medicines to patients faster, is to be warmly welcomed. The scheme should also make it more attractive for life sciences companies to conduct their development activities in the UK, which will bring a multitude of benefits to the population.
Claire Halpin, Empower: Access to Medicine, said:
There is no question that Les Halpin, my husband and founder of the Empower: Access to Medicine campaign, would have recognised this significant step forward on the road to ensuring those patients in desperate need have the opportunity to access treatments they could not in the past.

Empower: Access to Medicine welcomes this announcement and looks forward to working with the Department of Health and the MHRA to make sure that this scheme truly works for those with life-threatening illnesses and unmet clinical need. For many of these patients do not have the luxury of time.
Background
For more information contact the Department of Health press office on 0207 210 5477 / 5738.
Additional quotes
Paul Catchpole, Director of Value and Access at the Association of the British Pharmaceutical Industry (ABPI), said:
The Early Access to Medicines scheme will benefit patients, the NHS and the UK clinical research community, of which our industry is a part. Most importantly, it means that patients with some life-threatening or seriously debilitating conditions, without adequate treatment options, will be able to get faster access to important innovative medicines as these will be made available before launch, following an assessment by the MHRA.
The introduction of the Promising Innovative Medicines (PIM) designation should help make the UK more attractive for investment and growth, with similar merits to the Food and Drug Administration's (FDA) Breakthrough Therapy Designation in the US. "We note that the scheme is currently unfunded, which is an issue for some companies, and we have called for a one year on joint review of the scheme so that we can appraise its first year and potentially review funding options.
Steve Bates, BioIndustry Association (BIA) Chief Executive Officer:
The BIA supports the government's decision to introduce a Promising Innovative Medicine (PIM) designation and an Early Access to Medicines Scheme (EAMS) which shows the UK is committed to an "all hands on deck approach" to speedily progress promising innovative therapies to the patients that need them.
As it is currently envisaged, without centrally funded reimbursement, the scheme runs the risk of being under-utilised. The BIA remains committed to working in partnership with all stakeholders to ensure that this is not the case and the scheme remains globally competitive.
Case study – pharmaceutical company.
Summit plc, a UK based pharmaceutical company, is developing treatments for Duchenne muscular dystrophy ('DMD'), a rare and fatal muscle wasting disease. The Company's lead drug has finished Phase 1 studies in healthy volunteers and it is now being testing in a Phase 1b study in DMD boys in four hospitals in the UK. The next stage will be a large Phase 2 study in the UK, Europe and the US which is planned to start later in 2014. Early access would be a major boost to this type of programme. Summit could work with MHRA to go through an initial assessment on safety and effectiveness, and if given a Promising Innovative Medicines stamp, then the drug could be offered to patients much quicker than usual. It can also revolutionise the economics of development for these rare diseases such as DMD.
Existing drug licensing process
Step one: To begin the process, companies and/or researchers must apply to the MHRA for permission to test drugs in clinical trials, if these trials are to be conducted in the UK. In order to receive permission to conduct a trial, they must first satisfy the MHRA that they have met strict safety criteria.

Step two: All the test results from these trials on how well the medicine works and its side effects, plus details of what the medicine contains, how it works in the body, and who it is meant to treat, are then sent to medicines regulatory agencies for detailed assessment. The assessment team is made up of experts from different relevant specialties, each of whom has undergone additional training in medicines assessment. The length of the assessment process depends on:

the type of medicine
the quality of the initial information supplied by the manufacturer
how much further detail is required
how soon uncertainties can be resolved
All the information is supplied in electronic format to minimise procedural delays Medicines regulatory agencies such as the MHRA have to comply with strict timeframes and performance targets for the licensing of medicines.
Step three: If the authorities are satisfied that the medicine works as it should, and that it is acceptably safe, it is given a marketing authorisation or product licence.
Early Access to Medicines Scheme However, once the scheme is in place, patients who have life threatening or seriously debilitating conditions will be able to benefit much quicker from innovative treatment.
The MHRA is responsible for the scientific aspects of the scheme. The scientific opinion is provided after a two-step evaluation process. Step I, the Promising Innovative Medicines (PIM) Designation and Step II, the Early Access to Medicines Scientific Opinion. The PIM designation provides an early indication that a product may be a possible candidate for the Early Access to Medicines Scheme (based on early clinical data for example from phase II studies). The PIM designation will be issued after a MHRA scientific meeting and could occur several years before licensing. Companies who wish to gain entry into the scientific opinion step can do so if they hold a PIM designation and relevant data on quality, safety and efficacy. The scientific opinion will describe the benefits and risks of the medicine, based on the information submitted to the MHRA by an Applicant. The opinion will support the prescriber to make a decision with the patient on using the medicine, before its licence is approved. Medicines in the Early Access Scheme will typically be commissioned by NHS England through its specialised commissioning arrangements, delivering a single national approach to commissioning.
Published 14 March 2014