News story
Cutting accountancy and reporting fees for SMEs
Government proposes new rules to save SMEs millions in reporting and accountancy fees.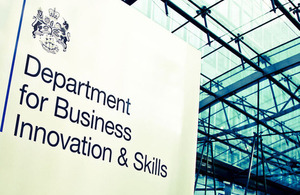 More than 100 thousand UK businesses could save in excess of £600 million in accountancy and administration costs every year under proposals to reduce financial reporting requirements.
The consultation on Audit Exemptions and Change of Accounting Framework sets out plans to allow more small companies and subsidiaries to decide whether or not to have an audit.
It covers the whole of the UK and will close on 29 December 2011.
Current EU rules mean a company must comply with two out of three criteria in order to be classified as 'small' for accounting purposes:
No more than 50 employees.
A balance sheet total no more than £3.26 million.
No more than £6.5 million in turnover.
However, to obtain an audit exemption in the UK, small companies must fulfil both the balance sheet and turnover criteria.
Under the new proposals, UK SMEs would be eligible for audit exemption by meeting any two of the three criteria, saving them an estimated £206m per year.
The Minister responsible for Corporate Governance, Edward Davey, said:
"Audit is very valuable for many companies. But the proposals we've published today are aimed at removing EU gold plating and freeing up enterprise, which ultimately benefits the whole UK economy and will help put us on the path to long-term, sustainable growth. So I encourage businesses to read the consultation document and share their views with us."
Cutting gold plating
The Government is also proposing to introduce legislation in 2012 to exempt most subsidiary companies from mandatory audit, provided their parent is prepared to guarantee their debts. Savings are estimated at £406m per year.
In total, removing this EU gold plating could save UK businesses £612m per year. These moves are part of the Government's wider focus on cutting red tape and reducing unnecessary burdens on business, in particular addressing the impact of European legislation.
Additionally, following the consultation by the UK Accounting Standards Board on changes to UK Generally Accepted Accounting Principles (UK GAAP), the Government is also seeking views on whether to allow companies which currently prepare accounts under International Financial Reporting Standards (IFRS) more flexibility to change their accounting framework to UK GAAP.
In March 2011 the Chancellor and Business Secretary published The Plan for Growth. One of the Plan's ambitions is to ensure the UK ranks among the best places in Europe to start and grow a business.
In order to achieve this, the Government is committed to removing regulatory burdens and improving corporate governance.
Links
Published 6 October 2011