Cumbrian businesses shaping policy in Rural Roadshow
Around 900 jobs and almost 500 new businesses are expected to be created in Cumbria following the £3.5 million investment in a Rural Growth Network.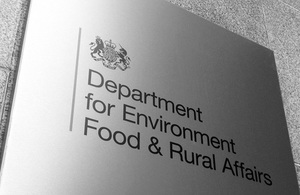 Some of Cumbria's leading agricultural and business experts are shaping the future of Government rural policy while meeting Farming Minister David Heath on his Rural Roadshow to the county today.
Mr Heath's visit is part of a series of Rural Roadshows taking place all around the country by all Defra ministers. The Roadshows allow ministers to hear firsthand about rural issues from communities and businesses, learning about successes and challenges and discovering what help is needed in order to support rural growth and jobs.
The direct access to ministers will help ensure that rural England has a strong voice at the heart of Government.
In Kendal today, Mr Heath will take views on what more the Government can do enable uplands farmers to prosper and grow.  Local experts from the Countryside Alliance, National Farmers' Union, National Sheep Association, and Natural England will be among those invited to advise the minister on issues facing uplands farmers.
Farming Minister, David Heath said:
"Cumbria's uplands are not just home to some of the most inspiring landscapes in the country, but they support thousands of farms and businesses and they should not be held back just because of their location. We want to see them thrive and  on my Rural Roadshow, I'll meet some of the county's business experts to take their advice on what more the Government can do to grow the rural economy and create local jobs.
"The current gaps in provision of superfast broadband are at the top of all our agendas. A decent internet connection is essential to economic growth and I know that this is felt particularly keenly in the uplands.  I can reassure you that change is coming - we've promised a better superfast broadband network than anywhere in Europe and are cutting red tape and investing in the infrastructure needed to achieve it."
As part of all Rural Roadshows, ministers learn directly from rural communities and businesses about the support they need from Government, and when Government should step back and let them thrive.
Food production in Cumbria plays a key role in the county's economy.  Mr Heath will meet some thriving businesses at Lakeland Food Park with a view to hearing about how their success can be echoed across the country's food industry.  Following the journey of locally grown, produced and sold food, Mr Heath will visit Plumgarths, a Kendal sausage maker, before hitting the road again to see its produce on the shelves of Kendal ASDA.
As set out in the 'rural contract', the Government is ensuring that rural areas such as the Cumbrian uplands have the infrastructure that businesses need to grow.   In Cumbria, 76 new work premises are planned by the Government and two communities are the first in the country to be offered pre-contract agreement for superfast fibre optic broadband.
Today, Mr Heath will see how the investment of one local rural business, Kendal Auction Mart, is having a knock on effect on many more businesses' prospects.  The Auction Mart's new premises near the M6 will improve both capacity and accessibility for upland farmers in Cumbria, Yorkshire and Lancashire.  It will also provide office space, giving entrepreneurs the chance to do business in their own community and keep jobs in the area.
Chair of the National Sheep Association and Plumgarth director, John Gelderd said:
"I think it is vital that ministers visit the area and I am absolutely delighted that Mr Heath has taken the time to come, as I think that when people come from London to the country it makes conversations much more productive and easier."
Notes
Around 900 jobs and almost 500 new businesses are expected to be created in Cumbria following the £3.5 million investment in a Rural Growth Network
Subject to pre-contract conditions being met, two communities in Cumbria will be the first in the country to be offered funding from the Rural Community Broadband Fund.  This £20 million Fund, financed jointly by Defra and Broadband Delivery UK, is delivering superfast broadband to the remotest communities, which would otherwise receive a minimum standard broadband connection under the main rural broadband programme.
The Fibre GarDen project will create a fibre optic network that connects every property in the isolated and sparsely populated upland rural communities of Garsdale and Dentdale in south east Cumbria.
The superfast broadband network, with initial speeds of 100 mbps, will have £157,500 in Government investment and will be built and operated by the community interest company (CIC), Fibre GarDen CIC.  Once the build is complete, the ownership of the network will remain with the CIC, ensuring that it continues to serve the community's needs into the future.
The other community project to have been offered pre-contact agreement is Fell End, situated over seven miles from the nearest service centre, in Ravenstonedale, Cumbria.  Subject to contractual agreements, the Government has agreed to provide £17,400 for this second project from the Rural Community Broadband Fund to connect 58 premises. **
Published 9 October 2012