Culture Secretary's Olympic tour heads to the East Midlands
Businesses in East Midlands urged to make the very most of the opportunity of the country hosting the Olympics and Paralympics.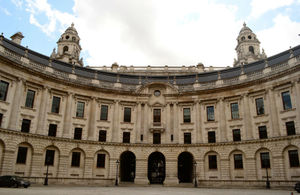 Businesses in the East Midlands were today urged to make the very most of the opportunity of the country hosting the Olympics and Paralympics, as Secretary of State for Culture, Olympics, Media and Sport Jeremy Hunt took his nationwide '2012 tour' to Nottingham.
Addressing more than 100 hoteliers, businesses and tourism bodies from across the East Midlands, the Secretary of State hailed the region's stunning natural beauty and great historical significance. He said there were big wins to be had in 2012 for the East Midlands, in particular its tourism industry.
He also revealed that the region would feature in major international and national marketing campaigns to promote UK tourism in 2012 and urged local tourism firms to sign up to a new 20.12 per cent discount scheme.
The event, which was hosted by Derek Brewer, Chairman of Experience Nottinghamshire, showcased the business, tourism, cultural and sporting opportunities that the Games bring. 
Other speakers included John Penrose (Tourism Minister), Deborah Hale (Torch Relay Producer at London 2012) and James Berresford (Chief Executive of VisitEngland).
Mr Hunt said:
"As the whole country cheers on Rebecca Adlington next year, I want them to know her home county with its amazing countryside is a stunning place to visit for a holiday.  With the Torch Relay going right through Sherwood Forest and the Peak District, we have a chance to tell the world about the treasures in this part of the country - and will do so with our biggest-ever tourism marketing campaign".
VisitEngland's Chief Executive, James Berresford said:
 "I'm delighted to be here in the East Midlands with the Secretary of State, Jeremy Hunt, and Tourism Minister John Penrose.  This exciting tourism roadshow launches England's most high profile campaign to boost domestic tourism and is designed to highlight the fantastic experiences Britons can enjoy literally on their doorsteps. 
"2012 offers the tourism industry a number of unprecedented opportunities.  Not only will England be showcased to billions of people all over the world, but we have the opportunity to grow domestic tourism by inspiring Britons to rediscover England and take a holiday at home next year. Spear-heading the promotion will be a high profile TV campaign and specially devised discounted offers. Our job as the national tourist board is to work with the industry to harness the pride we know is felt by local residents and to inspire them to act as ambassadors for their destinations for next year and beyond."
Derek Brewer, Chairman of Experience Nottinghamshire, said:
"We welcome the Secretary of State and the Tourism Minister to the East Midlands at a time when we have much to be proud of in our sporting and cultural offering. We are delighted to be hosting the event at Trent Bridge where Ashes Tests will be played in 2013 and 2015. We have a rich heritage, of which we are immensely proud, and considerable ambition and drive to attract more visitors to experience the best of our region."
Mr Hunt, with Sports and Olympics Minister Hugh Robertson, also visited Ellis Guilford School and Sports College in Nottingham. They hosted a school sport summit, along with Nottingham native and Olympic cycling medallist, Bryan Steel.  At the event Mr Steel spoke about how sport was his inspiration and urged schools to sign up for the new School Games school sport competition.  Using the inspiration of London's Olympics, the competition is helping to transform competitive sport in schools and get more young people playing sport. Pupils from the school's dance group also performed at the morning's business summit.
Mr Hunt added:
"The School Games will leave a real lasting legacy from London's Olympic and Paralympic Games.  They will transform sport in school, bringing back competition and getting rid of 'prizes for all'.  There is still time for schools to sign up for the competition, which will have its first finals in the Olympic Park next year."
Mr Hunt's tour today also included a visit to Nottingham Playhouse to see some of the cultural opportunities that are available in the city.
Bryan Steel, said:
"Through the School Games more young people will have the opportunity to go on to be the best they can be at sport. As a Sporting Champion I work with young people who grow in self-esteem and confidence because they set themselves competitive challenges and strive to meet them. Coming from a disengaged background and facing learning difficulties at the age of 14 the course of my life was changed by sport. I will be encouraging as many young people as possible to get involved in one of the sports competitions - I dare you to break new boundaries and mark your mark.  You never know it may change your life too!"
Mr Hunt's visit to Nottingham today is the second in a series of events being held around the country to help all parts of the country make the most of the opportunities of the Games and to urge schools to sign up to the School Games competition.
Notes to Editors
Nottingham-born Bryan Steel is a former Olympic cyclist and is currently representing Sporting Champions, a Sport England initiative. He represented Great Britain at the 1992, 1996, 2000 and 2004 Olympics.  He holds a host of Olympic, World Championship and Commonwealth Games medals - in both team and individual competitions.

Further information about tourism in East Midlands can be found on the following websites:
* [Experience Nottinghamshire](http://www.experiencenottinghamshire.com/)
* [Visit Peak District](http://www.visitpeakdistrict.com/)
* [Visit Northamptonshire](http://www.visitnorthamptonshire.co.uk/)
* [Visit Lincolnshire](http://www.visitlincolnshire.com/)
* [Go Leicestershire](http://www.goleicestershire.com/)
* [Discover Rutland](http://www.discover-rutland.co.uk/)   

For further information about Visit England contact Sarah Long on 0207 578 1452 / sarah.long@visitengland.org.

The GREAT initiative is an international campaign to maximise the tourism and business opportunities of the UK hosting the 2012 Games.

Mr Hunt is making a series of visits around the country to promote the opportunities of 2012.  He visited Cumbria on 9 November and Nottingham on 16 November.  Other provisional dates are:
* 18 November: South West (Eden Project) 
* 23 November: West Midlands (Birmingham) 
* 1 December: East of England (Norwich) 
* 2 December: South East (Canterbury) 
* 16 December: North East (Gateshead) 
* 12 January: London (tbc) 
* 18 January: Yorkshire & Humber (York) 
* 20 January: North West (Manchester) (tbc) 
* Scotland, Northern Ireland and Wales to be confirmed  

The School Games is a new school sport competition, using the inspiration of London's Olympics and Paralympics to help transform competitive sport in schools and get more young people playing sport.  Open to all schools, there are three levels of competition (class versus class, school versus school and then county or city wide sports festivals) leading up to the showcase final on the Olympic Park. The School Games will continue after 2012 and the ambition is for the finals to be held in the Olympic Park at regular intervals. Schools have until the end of January to sign up.  Further information about the school games is available on the DCMS website and the Your School Games website.

East Midlands 2012 factsheet (PDF 40kb).
Press Enquiries: 020 7211 2210
Out of hours telephone pager no: 07699 751153
Public Enquiries: 020 7211 6000
Published 18 November 2011