Culture Secretary unveils first 20 locations set to receive local TV
The 20 towns and cities across the UK which are expected to be the first to have their own local TV stations were announced today by Jeremy Hunt.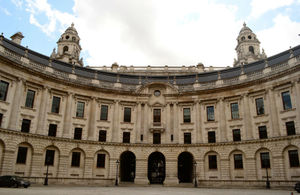 Mr Hunt published the shortlist as he set out the next steps in delivering the new local TV initiative.
The first 'pioneer areas' will be: Belfast, Birmingham, Brighton and Hove, Bristol, Cardiff, Edinburgh, Glasgow, Grimsby, Leeds, Liverpool, London, Manchester, Newcastle, Norwich, Nottingham, Oxford, Plymouth, Preston, Southampton and Swansea.
These were identified as having significant levels of interest from potential operators and audiences following a consultation to select the pioneers from 65 areas technically capable of receiving a local TV service.  Ofcom will now consult on these areas and its proposed licensing process.
A further 24 areas identified for a future round of licensing are: Aberdeen, Ayr, Bangor, Barnstaple, Basingstoke, Bedford, Cambridge, Carlisle, Derry/Londonderry, Dundee, Guildford, Hereford, Inverness, Kidderminster, Limavady, Luton, Maidstone, Malvern, Mold, Salisbury, Sheffield, Stoke on Trent, Stratford upon Avon and York.
Secretary of State for Culture, Olympics, Media and Sport Jeremy Hunt said:
"Local TV will be a fundamental change in broadcasting in this country, meeting a real demand for local news and content. We are now putting in place the measures needed to establish a series of commercially viable local TV stations. I am confident these new stations will provide local communities with programming which is relevant to their daily lives, will support local democracy, boost the Big Society and enhance local communities."
The government is now taking a number of steps to create a new statutory framework for licensing that will allow for transmission infrastructure to be built and the new local TV services to start operating.
Three pieces of legislation will shortly be laid in Parliament to make the necessary changes.
Spectrum, an Order under section 5 of the Wireless Telegraphy Act 2006, will direct Ofcom to make available a small amount of low-value geographic interleaved (GI) spectrum at transmitters across the UK for each new local TV station to be broadcast on.  Securing this spectrum will be fundamental to the success of local TV as it provides certainty for potential bidders and a solid base from which local services can launch.
Local licensing, an Order under section 244 of the Communications Act 2003, will create a local television licensing regime and place obligations on a new spectrum and multiplex licence holder to build the necessary infrastructure and carry the local services. The local licences will be required to provide a range of programmes that are relevant to local communities including coverage of news and current affairs.
EPG prominence, an Order under section 310 of the Communications Act 2003, will add local television services to the list of channels which must be given appropriate prominence on electronic programme guides (EPGs). This will help to ensure high visibility of the local TV services on television sets, enhancing their chances of commercial viability. Sky and Virgin have committed to offering apps or the yellow button for audiences to access IPTV or video-on-demand local TV services from their front pages.
Also today, the government is publishing more detail of the new framework for local TV. Spectrum will be awarded through a competitive process to a multiplex operator to provide the distribution for local TV. The multiplex operator will also be able to utilise two additional videostreams with the potential to create two quasi-national channels. The competition for the multiplex licence will be open to both commercial and not-for-profit bids. A range of conditions will require the holder of the multiplex licence to promote local TV; offer good quality coverage and transmission; and recover carriage costs no greater than the costs of transmission at each location from each digital local TV service.
The government also intends to examine whether independent television production companies should be allowed to bid for local TV licences. Current rules, designed to ensure a buoyant independent production sector, would prevent an independent producer from owning more than 25% of a local TV licence. The Government expects to consult in the coming months on whether this could be changed without harming plurality in the independent television sector.
Finally, the holder of the multiplex licence and the local licensees will be required through the legislation to participate in the formation of a local TV industry body which, among other things, will consider audience measurement; and could take on the operation of the multiplex in due course.
Ofcom will shortly publish a consultation setting out more detailed proposals on awarding local TV licences.  It is anticipated that the first local television licences will be awarded from summer 2012, and then the first of the new stations could be broadcasting from 2013.
Notes to editors
Local TV: Making the Vision Happen, the government response to the consultations on the Local TV Framework and Pioneer Locations and final policy position.

The Coalition Agreement set out the government's commitment to promote a strong and diverse local media industry. Central to delivering this aim is the creation of a new local television market, a key government commitment and a priority in DCMS's business plan.

Draft legislation is expected to be published in Parliament shortly.

During the summer, the government consulted on the 65 locations which had the potential to receive a local TV service. The government sought views on which areas should be licenced first and shared those views with Ofcom. In addition, Ofcom considered a range of criteria including spectrum coverage and population size, as well as the level of interest from potential operators and the public, geographic spread and diversity of communities across the nations and regions of the UK. Subject to the necessary legislation passing through Parliament, Ofcom is expected to advertise licences next May.

Local TV will have the opportunity to reach all other localities through internet protocol services (IPTV) facilitated by the government's superfast broadband strategy. This is planned to reach 90% of the population by 2015.

As part of the licence fee settlement in October 2010, the BBC agreed to provide capital funding of up to £25 million for local TV services and an additional £15 million to acquire local TV content. The final determination on the BBC's contribution will be subject to approval from the BBC Trust and state aid clearance from the European Commission. The government is engaging with the European Commission about its proposals for local TV and an initial decision is expected before Ofcom's awards process begins.
Press Enquiries: 020 7211 2210
Out of hours telephone pager no: 07699 751153
Public Enquiries: 020 7211 6000
Published 13 December 2011