News story
Culture Secretary appoints new Levy Board members
John Whittingdale has appointed The Lord Risby of Haverhill and Neil Goulden to the Horserace Betting Levy Board.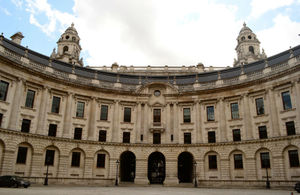 The appointments are for up to 4 years from 1 January 2016, and fill the 2 vacancies for government appointed members, who sit on the Levy Board alongside members appointed by bodies representing horseracing and betting. The purpose of the Levy Board is to assess and collect monetary contributions from bookmakers and the successor company to the Tote, currently based on a percentage of gross profits via a levy, which the Levy Board distributes for the improvement of horseracing and breeds of horses, and for the advancement of veterinary science and education. Government appointed members receive £19,665 per year in return for 2-3 days per month, plus expenses.
The Lord Risby of Haverhill
Before entering Parliament Lord Risby worked in the City, becoming a vice-president at Merrill Lynch. Standing down after eight years as a Conservative MP, for Bury St Edmunds and then West Suffolk, Lord Risby entered the House of Lords in 2010. He had also been Vice-Chairman of the Conservative Party from 2005-2010. He is currently the British Trade Envoy to Algeria, and Chairman of the British Ukrainian Society. He is a director of Minexco Petroleum Inc., President of the Association for Decentralised Energy, and Deputy Chairman of the Small Business Bureau Ltd.
 Neil Goulden
During his executive and non-executive career, Neil Goulden has been involved in both horseracing and betting. He was Chairman and Chief Executive of the Dutch Tote (1985-89) and then became Chairman of Letheby & Christopher, a racecourse caterer, until 1995. He has also worked on strategic projects with the British Horseracing Authority, and has owned racehorses. In 2000 he became Chief Executive of the Gala Group, and in 2005 (when Gala Group bought Coral) he became a member of the Bookmakers Committee (2005-13). As well as running his own consultancy business since 2010, he is Chairman of the Governors of Nottingham Trent University, a Trustee of Ambitious about Autism, a Trustee (and Chair of Finance and Audit Committee) at Sue Ryder, a non-executive Director of Marstons plc, and Chairman of The Responsible Gambling Trust and Affinity Sutton Housing Association. He holds one other public appointment, as Vice Chair and Audit Committee Chair at Princess Alexandra Hospital, Harlow, for which he receives £6,157 in return for 2-3 days per month. Mr Goulden has declared a political donation to the Labour party within the last 5 years.
Published 18 December 2015