Culture minister rules unique William Burges settle to stay put
Culture Minister Ed Vaizey has placed a temporary export bar on a unique zodiac settle, designed by the influential architect William Burges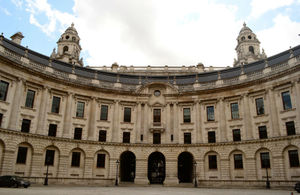 This will provide a last chance to raise the money to keep the settle in the United Kingdom.
The ruling follows a recommendation by the Reviewing Committee on the Export of Works of Art and Objects of Cultural Interest, administered by the Museums, Libraries and Archives Council (MLA).  The Committee recommended that the export decision be deferred on the grounds that the settle is of outstanding aesthetic importance and of outstanding significance for the study of the work of Burges, the medieval revival in 19th century Britain and the revival of interest in Victorian art and architecture in 20th century Britain.  This interest was personified by two prominent literary figures who owned the settle, Evelyn Waugh and John Betjeman.
William Burges (1827-1881) was one of the most distinguished architects of the Victorian period. He was a designer of astonishing ability and energy, involved not only in architecture but also in interior design, furniture, textiles, jewellery, ecclesiastical and domestic plate and stained glass. His elaborate furniture, much of which was painted, was conceived as part of colourful decorative and iconographic interior design schemes and was based on his study of medieval precedents, particularly surviving artefacts and documentary sources.
The zodiac settle is an impressive example of Burges' genius in reinterpreting medieval forms and decoration in his furniture design. The main panel of the settle shows the Sun on a central throne, flanked by the dancing Signs of the Zodiac. Two smaller panels on either side show the Planets as musicians and the lower panels depict St. Cecilia and another female figure below flowering stems.
Experimental in form and design, the settle was not a design repeated by Burges for other commissions, unlike his cabinets or bookcases. It was designed exclusively for Burges' own house and moved with him to Tower House, Kensington. Built by Burges for his own use, he described Tower House as 'a model residence of the thirteenth century'.  The building has been described as one of the most important surviving architect's house of the nineteenth century.
Lord Inglewood, Chairman of the Reviewing Committee, said:
"The importance of this unique item lies not only in its outstanding beauty but also in its place in the history of taste. It demonstrates simultaneously Burges' revival of the medieval in the 19th century and the interest in Victorian design in the 20th century through its association with two of the most well known authors of the period, Evelyn Waugh and John Betjeman".
The decision on the export licence application for the settle will be deferred for a period ending on 20 August 2010 inclusive. This period may be extended until 20 December 2010 inclusive if a serious intention to raise funds with a view to making an offer to purchase the settle at the recommended fair market price of £800,000 (no VAT payable) is expressed.
Anyone interested in making an offer to purchase the Zodiac Settle should contact the owner's agent through:
The Secretary
The Reviewing Committee on the Export of Works of Art and Objects of Cultural Interest
Museums, Libraries and Archives Council
Grosvenor House
14 Bennetts Hill
Birmingham
B2 5RS
Telephone 0121 345 7428
Notes to Editors
For all media enquiries please contact Senior Media Relations Adviser, Sunita Sharma, on 020 7273 8299, e-mail: sunita.sharma@mla.gov.uk. The image is available to download from DCMS's Flickr photostream.

For enquiries on the operation of, and casework arising from, the work of the Reviewing Committee on the Export of Works of Art and Objects of Cultural Interest (RCEWA) please contact Sean BC Farran, RCEWA Secretary, on 0121 345 7428, e-mail sean.farran@mla.gov.uk

The Reviewing Committee on the Export of Works of Art and Objects of Cultural Interest is an independent body, serviced by MLA, which advises the Secretary of State for Culture, Media and Sport on whether a cultural object, intended for export, is of national importance under specified criteria. Where the Committee finds that an object meets one or more of the criteria, it will normally recommend that the decision on the export licence application should be deferred for a specified period. An offer may then be made from within the United Kingdom at or above the recommended fair market price.

The details of the settle are:
A settle, wood, painted, stencilled, gilded and inlaid with glass, crystal and slips of vellum, approximately 72 x 72 inches, designed by William Burges (1827-1881) and probably made either by Harland and Fisher, or by John Walden, with painted Zodiac panel by Henry Stacy Marks (1829-1898) and Planets as Musicians painted by Frederick Weekes (1833-1920), and inscription, 'BURGES ARCHITECTUS ME FIERI FECIT ANNO SALUTIS MDCCCLXIX AUTEM ME DEPINCI FECIT APRILIS SALUTIS  MDCCCLXX' (Burges the Architect had me made in the year of salvation 1869 however he had me painted in April of the year of salvation 1870), 1869-70
Provenance:
The settle was designed by Burges for his own use in his second floor rooms at 15 Buckingham Street, Strand, London, and presumably moved to Tower House in or after 1878 when Burges occupied the house and placed opposite the windows in the drawing room, a room unfinished on his death in 1881. The settle remained in Tower House, descending in the family of R.P. Pullan, Burges's brother-in-law, and was subsequently owned by Col. T.H. Minshall, Col. E.R. B. Graham, and John Betjeman who gave it to Evelyn Waugh; Waugh family by descent
Key literature:
G.G. Scott, Gleanings from Westminster Abbey, London 1863
William Burges, Art Applied to Industry: a series of lectures, Oxford 1865
William Burges, 'Why we have so little Art in our Churches', The Ecclesiologist, vol. xxvii, n.s. xxv (1867), pp. 150-6
R.P. Pullan, The House of William Burges, A.R.A., London 1886
Henry Stacy Marks, Pen and Pencil Sketches, London 1894
Chesterton & Sons, Tower House 9 Melbury Road Kensington Catalogue of The Contents of The Residence, 16th October 1933, lot 115
Charles Handley-Read, 'Notes on William Burges's Painted Furniture', The Burlington Magazine, Vol. CV, No. 728, 1963, pp. 496-509
J. Mordaunt Crook, William Burges and the High Victorian Dream, London 1981
Bevis Hillier, Betjeman: the bonus of laughter, London 2004
Soane Gallery, London, First and last loves: John Betjeman and architecture, catalogue of the exhibition 8th September - 30th December 2006
Press Enquiries: 020 7211 2210
Out of hours telephone pager no: 07699 751153
Public Enquiries: 020 7211 6000
Published 21 June 2010