News story
Culture Minister hopes to keep magic of 'The Adoration of Magi' in the UK
Culture Minister Ed Vaizey places a temporary export bar on a marble relief by John Flaxman, the renowned sculptor who served as a modeller for Josiah Wedgwood.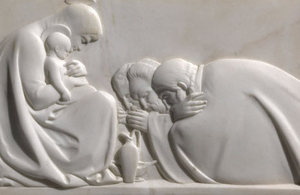 The sculpture depicts the Adoration of the Magi: the three kings kneeling before the seated Virgin and Child. It will be exported overseas unless money can be found to match the asking price of £800,000.
The rectangular marble slab, carved in low relief, depicts the Virgin seated on the ground holding the Christ child on her lap. Before them kneel the three Magi. The relief panel, of exceptional quality, has been attributed to the renowned British artist John Flaxman. The composition closely corresponds with a slightly larger plaster version by the artist at Sir John Soane's Museum, as well as two pen, ink and wash drawings, one of which is currently at the British Museum. This remarkable sculpture seems extraordinarily modern, doubtless because of the relative lack of surface ornament, and the simplicity and purity of its composition. It also presents an unusual subject within Flaxman's oeuvre, in that it is neither a portrait nor a mythological composition, but taken from the New Testament.
The Minister has deferred granting an export licence for the piece following a recommendation by the Reviewing Committee on the Export of Works of Art and Objects of Cultural Interest, (RCEWA) administered by Arts Council England. The Committee made their recommendation on the grounds that the marble relief is of outstanding significance for the study of neo-classical sculpture and Flaxman's role within its development.
Culture Minister Ed Vaizey said:
John Flaxman was one of the most influential British artists of the early nineteenth century, who worked for Josiah Wedgwood and was held in esteem around the world. This piece is a wonderful example of English neo-classical sculpture and I sincerely hope that efforts can be made to raise funds for a matching offer to keep the painting in the UK.
Chairman of the RCEWA Sir Hayden Phillips said:
I am sure that many people will find, as I do, that this superbly crafted relief is of such direct and simple beauty that it offers its viewer a scene of compelling charm.
The decision on the export licence application for the marble relief will be deferred for a period ending at midnight on 5 February 2015. This period may be extended until 5 May 2015 if a serious intention to raise funds to purchase the piece is made at the recommended price of £800,000.
An image is available on the DCMS flickr
For media information contact: Alison Millar Media Relations Officer, Arts Council England 020 7268 9648 / Alison.Millar@artscouncil.org.uk
Background
Organisations or individuals interested in purchasing the works should contact RCEWA on 0845 300 6200.

Details of the marble relief are as follows: 'The Adoration of the Magi', John Flaxman RA Relief carving in marble, 9 inches by 17 inches (228mm by 430mm)

The Reviewing Committee on the Export of Works of Art and Objects of Cultural Interest is an independent body, serviced by Arts Council England, which advises the Secretary of State for Culture, Media and Sport on whether a cultural object, intended for export, is of national importance under specified criteria.

Arts Council England champions, develops and invests in artistic and cultural experiences that enrich people's lives. Between 2010 and 2015, it will invest £1.9 billion of public money from government and an estimated £1.1 billion from the National Lottery to help create these experiences for as many people as possible across the country. www.artscouncil.org.uk
Published 6 November 2014