Critically endangered tansy beetle re-discovered at Woodwalton Fen NNR after a 40 year absence
The rare and visually stunning iridescent green tansy beetle (Chrysolina graminis) – was believed to have one last remaining stronghold in the UK on a 30km stretch of the banks of the river Ouse in York.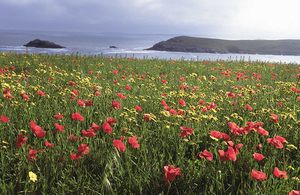 Now a momentous discovery has shown the existence of another population in the East Anglian fens.
The discovery at Woodwalton Fen National Nature Reserve (NNR) is significant as it demonstrates the resilience of the species when given the right conditions. The site is all that remains of a great wetland around Whittlesey Mere which was drained in 1851, leading to the loss of many species of wildlife. While the tansy beetle initially survived, its isolation was thought to have led to its ultimate extinction in Woodwalton in 1973, the date of its last recorded sighting, so it was a great surprise to entomologist, Dr. Peter Kirby, to discover a small population when carrying out ditch surveys for Natural England at Woodwalton this summer.
Dr Kirby said: "It is not uncommon for invertebrate populations to survive at extremely low levels for many years until conditions become suitable for an expansion and that appears to be what has happened here."
Alan Bowley, Senior Reserve Manager at Natural England said: "This is such an exciting find. Woodwalton Fen is an isolated fragment of a once much larger wetland and so rare animals are always at risk of extinction, but this demonstrates how important these sites are for providing a refuge for these species to survive against the odds. There is only one other site in Britain where this beautiful creature is found and we will be working hard to try and ensure that it can flourish here."
Natural England has been working closely with partners on the Great Fen vision to create new habitat around the NNR, and with the Tansy Beetle Action Group (TBAG) to study how best to improve conditions for the beetle. So the fact that it is still living in the Fen is a real boost to those efforts.
Vicky Kindemba from Buglife and co-chair of TBAG said: "This is fantastic news for our amazing tansy beetle! This rare beetle now has a real chance at survival by expanding into the Fens. However, we still need to work hard to help it, and we would like everyone to get involved by 'Adopting a tansy beetle'."
Notes for editors
Image available on request.
For further information (media only) contact: Ellen Softley, Natural England press office: 0300 060 0213 / 07990 804795 ellen.softley@naturalengland.org.uk or or Paul Hetherington, Director of Fundraising and Communications: 01733 201210 / 07732 158128 paul.hetherington@buglife.org.uk.
The tansy beetle
The tansy beetle (Chrysolina graminis): a large, iridescent green leaf beetle, with a coppery sheen, was once widespread in Britain, but it is currently critically endangered, not just in the UK but across its worldwide range. It is now a conservation priority species in England (section 41) species, which means that public bodies have a duty to protect it, together with its habitat.
Although once widespread in the UK living in wetland areas, it has otherwise recently only been found along the banks of a 30km stretch of the River Ouse, around York, mainly eating tansy (Tanacetum vulgare), a perennial herb which has given the beetle its name. At their York site they complete their entire life cycle on and around the plant, beside riverbanks or in wetlands. If a clump disappears, the beetles have to walk to a new clump – they don't seem to fly. Although tansy is widespread along the River Ouse, land-use changes and the increase of invasive species such as Himalayan balsam have resulted in a decline in tansy plants over the past few decades. This has of course affected tansy beetle numbers and their populations have become increasingly isolated.
The ecology of the beetle in the fens differs as it has always been a wetland beetle feeding on water mint.
For more information see Buglife's fact sheet on the tansy beetle.
Woodwalton Fen National Nature Reserve
Woodwalton Fen NNR is one of the oldest nature reserves in Britain, having been purchased by Charles Rothschild in 1910 and declared the first reserve of the Society for the Promotion of Nature reserves in 1919. It has been a national nature reserve since 1954. Together with nearby Holme Fen NNR, Woodwalton is one of very few remnants of fen habitat to survive the large scale drainage for agriculture between the 17th and 19th century which saw the loss of almost all the wetland habitat in the wider area. The site was once part of a great wetland around Whittlesey Mere which was drained in 1851, leading to the loss of many species of wildlife. Tansy beetle was one which initially survived, but in such an isolated situation was always vulnerable to extinction.
About Natural England
Natural England is the government's advisor on the natural environment. Established in 2006, our work is focused on enhancing England's wildlife and landscapes and maximising the benefits they bring to the public.
we establish and care for England's main wildlife and geological sites, ensuring that over 4,000 National Nature Reserves and Sites of Special Scientific Interest are looked after and improved.

we work to ensure that England's landscapes are effectively protected, designating England's National Parks, Areas of Outstanding Natural Beauty and advising on their conservation.

we run England's Environmental Stewardship green farming schemes that deliver over £400 million a year to farmers and landowners, enabling them to enhance the natural environment across two thirds of England's farmland.

we fund, manage, and provide scientific expertise for hundreds of conservation projects each year, improving the prospects for thousands of England's species and habitats.

we promote access to the wider countryside, helping establish National Trails and coastal trails and ensuring that the public can enjoy and benefit from them.
About England's National Nature Reserves
England's 224 NNRs form part of a UK-wide network of nature reserves covering England, Scotland, Wales and Northern Ireland. Natural England manages 143 of these NNRs to ensure that our finest wildlife and geological sites are protected, conserved and enhanced for present and future generations. From Lindisfarne in Northumberland to The Lizard in Cornwall, and from the Suffolk Coast in East Anglia to The Stiperstones in Shropshire – NNRs are the very best places to experience the natural world at first hand.
About Buglife
The Invertebrate Conservation Trust is the only charity in Europe devoted to the conservation of all invertebrates, and is actively working to save Britain's rarest bugs, bees, butterflies, ants, worms, beetles and many more fascinating invertebrates. Further information is available on Buglife's website at www.buglife.org.uk. Follow us on Twitter @buzz_dont_tweet.'
About the Tansy Beetle Action Group
The Tansy Beetle Action Group (TBAG) is group of organisations who come together to work on the conservation of the beetle and is made up of Buglife, North Yorkshire County Council, the City of York Council, the Environment Agency, the University of York, the National Trust, BIAZA (Zoos Association) and Yorkshire Wildlife Trust.
About the Great Fen Vision
The Great Fen is a 50-year project to create a huge wetland area. One of the largest restoration projects of its type in Europe, the landscape of the fens between Peterborough and Huntingdon is being transformed for the benefit both of wildlife and of people. The vision is to create an enveloping landscape of 3,700 hectares around the existing NNRs. By buying and restoring farmland, they will be joined together and greatly enlarged, establishing a range of wetland features with unprecedented conservation benefits for wildlife. As well as providing a haven for fen wildlife, the Great Fen will create a massive green space for people, opening new opportunities for recreation, education and business. It will incorporate areas where winter flood waters can be stored and will prevent the release of huge amounts of carbon dioxide each year.
Partners include the Environment Agency, Huntingdonshire District Council, Middle Level Commissioners, Natural England and the Wildlife Trust for Bedfordshire, Cambridgeshire and Northamptonshire.
Published 6 August 2014