News story
Crimestoppers congratulated on its 25th anniversary
Jeremy Browne visits Crimestoppers during its 25th year of operation.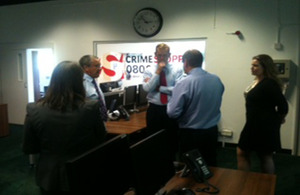 Minister for Crime Prevention Jeremy Browne met staff at the Crimestoppers call centre, who deal with members of the public who suspect criminal activity or wish to report a crime anonymously.
In its 25 year history Crimestoppers has helped secure more than 122,000 arrests.
Cutting crime
Crime Prevention Minister Jeremy Browne said:
Recorded crime is down by more than 10% under this government.

I want to personally thank the committed and dedicated staff at Crimestoppers for their help in making England and Wales safer than they have been for decades.
Approximately 31,000 people make contact with Crimestoppers every month.
This results in 22 people being arrested and charged each day for a range of crimes including drug trafficking operations to the fraudulent production of bank notes and building society cheques.
Published 20 June 2013