News story
Crime news: contract schedules to be issued
Individual law firms and other legal aid providers will be able to access new schedules online from March 2020.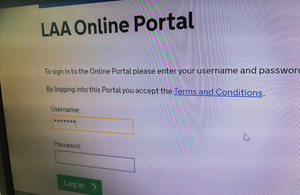 We will soon be issuing new crime contract schedules with this work beginning during February.
These new documents will replace the schedules for the standard crime contract 2017 which are ending on 31 March 2020. The schedules will bring into effect the notice of extension issued in August 2019 and will run for 12 months.
Providers do not need to take any action for this extension to take effect.
Why is this happening?
This is being done so that we can consider the outcome of Ministry of Justice reviews into criminal legal aid and the means tests before we put a new crime contract in place. These reviews are due to report towards the end of summer 2020.
Next steps
Law firms and other providers of legal aid services will be able to view the schedules in Contracted Work and Administration (CWA) system from March 2020.
Reporting work
Work completed in April 2020 can be reported from 1 May 2020.
Further information
Published 6 February 2020