News story
Cricket Twenty20 World Cup in Bangladesh
PHE and NaTHNaC remind fans going to Bangladesh for the Cricket Twenty20 World Cup to maintain good hygiene at all times.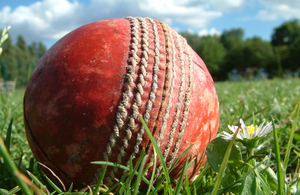 With the ICC World Twenty20 taking place in Bangladesh from 16 March 2014 to 6 April 2014, Public Health England (PHE) and the National Travel Health Network and Centre (NaTHNaC) want to remind travelling fans to follow good food, water and personal hygiene at all times when visiting Bangladesh.
Hilary Simons, Senior Specialist Adviser in travel health at NaTHNaC, which is commissioned by PHE, said:
The most commonly reported travel associated infection is travellers' diarrhoea and travellers to Bangladesh should therefore be very careful with food and water hygiene and exercise caution when choosing where and what to eat. Refer to NaTHNaC's country information pages, for travel health advice specific to Bangladesh.

The easiest way to protect yourself from stomach bugs is to always wash your hands before eating and after going to the toilet, and to remember the phrase 'boil it, cook it, peel it or forget it!'. Just a little thought and some sensible practices could help you avoid some unpleasant illnesses which could ruin your Cricket World Cup experience.
Where possible, travellers are advised to avoid the following potentially unsafe foods and drinks:
salads
raw fruit and vegetables, unless you wash and peel them yourself
food left exposed to flies
food shared with lots of people, such as buffets
undercooked or raw fish, meat or shellfish
reheated food – especially fish, meat or rice
takeaways and street food – unless thoroughly cooked in front of you
unpasteurised milk, cheese, ice cream and other dairy products
fresh or cooked food that has been allowed to stand at room temperature in warm environments
ice in your drinks, as this could have been made from unsafe tap water
Use safe water (such as boiled or bottled) to brush your teeth.
PHE and NaTHNaC strongly urge travellers to discuss their particular travel health requirements with a GP or travel clinic to ensure they are adequately protected, including being up to date with routine vaccinations and typhoid vaccination, as well as any additional ones that may be appropriate. All travellers should ensure they take out adequate travel health insurance.
Photo by cwgreeny. Used under Flickr Creative Commons
Published 4 March 2014