Credit union £38 million expansion deal signed
A contract worth up to £38 million to modernise and grow the credit union industry to help more people on low incomes, has been awarded.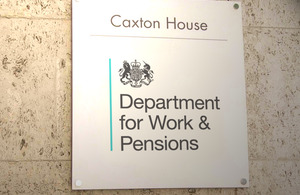 An ambitious contract worth up to £38 million to modernise and grow the credit union industry so it helps more people on low incomes, has been awarded today (16 April 2013).
The Association of British Credit Unions (ABCUL) is the successful bidder to deliver the DWP's Credit Union Expansion Project to help meet the growing demand for modern banking products for people on low incomes.
A recent feasibility study showed that modernising the industry and helping it become financially self-sustainable would enable credit unions to help up to 1 million more people, giving them access to banking products, debt advice and affordable loans.
Currently around 7 million people fall into the trap of high-cost credit, with some being charged more than 6000% in interest on short-term loans. The expansion project will save consumers up to £1 billion in loan interest repayments by March 2019.
Minister for Welfare Reform David Freud said:
Credit unions offer an alternative to vulnerable people who have few safe options to get cash when they need it most. They are the antidote to predatory loan sharks or high-interest lenders.

We are pleased ABCUL will be carrying out our investment to modernise and make credit unions financially self sufficient so they continue to help those in their communities who need it the most.
ABCUL aim for credit unions to have up to 1 million more members by 2019.
ABCUL Chief Executive Mark Lyonette said:
We are delighted to have been selected to run this ambitious and timely project. I look forward to working with the DWP to ensure that credit unions can expand their collaborative work and create the levels of service which will attract many more people to use their products.

More credit unions will offer a wider range of products including current accounts, Cash ISAs and innovative budgeting accounts. The centralisation and streamlining of day to day tasks and the introduction of innovative modern access channels will make credit unions a much more attractive proposition to many more people and secure a solid future for the sector.
More information
In June 2012 it was announced that the government would take forward the findings of a DWP Credit Union Expansion feasibility study and DWP would invest in £38m in credit unions to March 2015.
The investment is conditional upon the credit union industry meeting agreed milestones for collaboration, modernisation and expansion, and to deliver this expansion in a way that makes them financially sustainable.
ABCUL will be supported by credit unions with a membership of around 470,000 to carry out the Credit Union Expansion Project.
Contact Press Office
Media enquiries for this press release – 0203 267 5111
Press Office
Caxton House
Tothill Street
London
SW1H 9NA
London Press Office (national media and London area enquiries only – not questions about personal claims) 020 3267 5144
Out-of-hours (journalists only) 07623 928 975
England and Wales (local media enquiries) 029 20 586 then 097 or 098 or 099
Scotland (local media enquiries) 0131 310 1122
Follow DWP on:
Published 16 April 2013