World news story
Creativity is Great as stars attend Queen's Birthday Party in Shanghai
David Beckham, Dame Helen Mirren, Tom Hooper and other special guests attended the British Consulate General's 2013 Queen's Birthday Party today (19 June).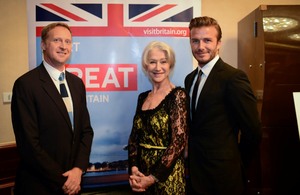 300 guests enjoyed an evening highlighting the Best in British Film to coincide with the Shanghai International Film Festival, and were surprised by the attendance of some of the UK's biggest stars at the Intercontinental Ruijin Hotel, Shanghai, Intercontinental Hotels Group (IHG)'s 200th hotel in mainland China.
Consul General Brian Davidson hosted the evening and paid tribute to Her Majesty the Queen who has dedicated her life to representing the United Kingdom on the International stage and has just celebrated 60 years since her coronation.
Guests included Chinese officials, British celebrities, Chinese and British business leaders, the British Film Institute, the diplomatic corps and members of the British community in Shanghai.
Consul General Brian Davidson surprised guests by introducing David Beckham and Dame Helen Mirren two of the UK's most well known stars. Dame Helen coincidentally won an Academy Award for playing Her Majesty the Queen in the 2006 box office hit. He went on to say:
I am thrilled to welcome David Beckham and Dame Helen Mirren together with her husband Taylor Hackford, and Tom Hooper to tonight's party. David, Tom and Helen are great examples of the excellent creative and sporting talent that exists in the UK.
Mr. Davidson said:
2013 marks another milestone in modern day Britain as we continue to go from strength to strength in the creative industries. A recent report shows that films depicting the UK, for example Jane Eyre, are responsible for generating around a tenth of overseas tourism revenues, estimating that around £2.1 billion of visitor spend a year is attributable to UK film. Films are an excellent window into the cultural heritage that a nation has on offer. It's a GREAT time to visit the UK and our visa system has been improved to simplify the application process
Consul General Davidson also thanked the evening's main sponsor Aston Martin and paid tribute to the staff of the Intercontinental Ruijin Hotel and management at IHG for the great support and significant sponsorship that they had provided.
Published 21 June 2013