Press release
Creation Development Trust is the Prime Minister's first Welsh Big Society Awards Winner
[](http://www.walesoffice.gov.uk/files/2011/12/Big-Society-Award.png)[](http://www.walesoffice.gov.uk/files/2011/12/Big-Society-Award.png) …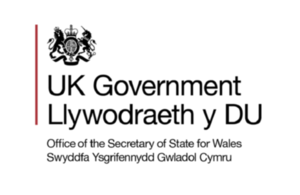 Welsh Secretary Cheryl Gillan has today, 1st December, presented the Creation Development Trust, a social enterprise set up to revitalise the local area near Bridgend, with a Prime Minister's Big Society Award - the first one to be awarded in Wales
Creation Development Trust was set up in 2000 by members of the local community to tackle social and economic problems in the region.  Since then they have helped local people and groups to set up projects to improve all aspects of life in Bridgend from the Creation cafe which is used to help develop internet skills to the Knitting Nannas group which produces knitted items for charitable organisations.  Last year over 700 people benefitted from training and development activities run by the Trust, 20% of which had a disability
The Trust's most innovative achievement is the Garw Timecentre which is the largest timebanking project in the UK.  By volunteering for activities like running classes, planting in the local community or working as Street Ambassadors to look after local streets, their resident members earn credits which can be used to 'pay' to take part in other community activities. When the scheme was extended to offer younger people a way to earn credits for activities like judo, cheerleading and social events police reported a 17% reduction in anti-social behaviour.
During her visit Mrs Gillan met with Street Ambassadors, Knitting Nannas and members of the community currently involved in lantern making for the local Lantern Festival which has become a popular event which brings the local community together to celebrate the town's mining heritage.  Mrs Gillan also saw how the Creation Cafe is being used to develop internet skills.
Congratulating Creation Development Trust on the award, the Prime Minister said:
"The idea behind Creation Development Trust really embodies the spirit of the Big Society - people working to help their own community deliver the improvements they want to see. I'm particularly impressed with how the Timecentre has become such an established part of the local community that people really see their time credits as a local currency.
"This award recognises the time and effort those behind the Trust have given for more than a decade to build it into such a remarkable organisation. I hope they continue to be a driving force to help everyone in the area build a community they can be proud of."
Presenting the award, Welsh Secretary Cheryl Gillan said:
"It has been an honour to present the Creation Development Trust with their Big Society Award today. The staff and volunteers involved in making the local community a better place to live and work are truly inspiring and it is clear why they have been recognised for their work.
"The youth team and the street ambassadors, staff at the Real Food Shop, the Creation Cafe and the volunteers leading the art and knitting groups demonstrate great passion and determination. They show that by working together the local community is stronger; they are an inspiration to other communities across Wales.
"Congratulations Creation Development Trust!"
 Accepting the award, Dawn Davies, Chief Executive of Creation Development Trust said:
"I am thrilled to accept this award. It is a great recognition of all the work put in by everyone involved. We look forward to visiting Downing Street, sharing our progressive ideas with the Coalition Government and providing an insight to the kind of issues that affect rural communities in Wales".
On Creation Development Trust
Creation is engaged in economic, environmental, cultural and social regeneration. Established in 2000, it is an independent and not-for-private profit social enterprise. It is a company limited by guarantee (number 3998232) and a charity (number 1091527) managed by a Board of Trustees. The trustees give their time freely and receive no remuneration or other financial benefits from their involvement.Creation is community based, owned and managed, actively involved in partnerships and alliances between the community, voluntary, private and public sectors.Creation works with local people to develop sustainable projects that will contribute towards the regeneration of the local area, improve equality of opportunity and health and well being.
The organisation has received various awards including the national British Urban Regeneration Association Award for Community Inspired Regeneration, are named on the Cynnal Cymru Sustain Wales Wales Green List and has been nominated in the South Wales Police Awards for partnership work on anti-social behaviour projects.
Timebanking has become central to the work of the Trust and is now being used to explore ways in which businesses can develop closer, mutually beneficial links with the community. Creation runs the biggest timebank of its kind in the UK and is committed to supporting the development of timebanks across Wales and internationally.
Creation's offices are based at Blaengarw Workmen's Hall in the village of Blaengarw. The building has seen footfall increase four fold, from approximately 12,000 visits to over 50,000 annually, since the charity took over the building from the local authority. It is a community hub that generates over 20,000 hours of volunteering in one valley alone and through partnership projects with South Wales Police and other organisations, the Trust is now working right across the Bridgend County Borough.
Website www.creation.me.uk
On the Big Society Awards:
The Big Society Awards were set up by the Prime Minister in November 2010. The aim is to acknowledge individuals and organisations across the UK that demonstrate the Big Society in their work or activities. In so doing, the aim is also to galvanise others to follow.
The award focuses upon three specific areas:
Promoting social action - people being, and being encouraged to be, be more involved in their communities through giving time, money and other resources.
Empowering communities - local people taking control of how things are done in their area and being helped to do this by local government and others.
Opening up public services - public sector organisations and individuals demonstrating innovative ways of delivering public services and charities, social enterprises and private companies showing new ways of delivering public services.
Launching the awards, the Prime Minister said:
"There are some amazing projects and remarkable voluntary work going on in towns and cities up and down the country, by all kinds of organisations from large enterprises to tiny grassroots schemes and inspirational individuals.
"These awards are a chance to pay tribute to those making a valuable contribution to their community, the real champions of the Big Society, but perhaps more importantly, I hope they will motivate many others to take action, get involved and drive change in their area."
Nominations come in from the general public after which there follows a process of scoring and short-listing by officials and a further short-listing by a Panel of Ministers and independent external experts. This Panel makes recommendations to the Prime Minister who then presents the final award. Around twelve winners are decided each quarter meeting and then announced throughout the year.
For more information visit: http://www.number10.gov.uk/bigsocietyawards
Twenty-seven  winners have been announced to date:
Make a Difference South East - a project that inspires young people in Milton Keynes to better their lives and those around them through positive action and volunteering
Why Not Change North West - a social enterprise which builds the confidence and capability of individuals and organisations to make a positive difference
HERO North West - a project that inspires an enterprise culture amongst young people in Blackpool and beyond
Food Cycle London - a project that brings together young volunteers, surplus food and free kitchen space to create nutritious meals for people affected by food poverty in the UK.
Biddick Hall Community Focus Group North East - a project that has transformed the community through local action on health, crime, employment and activities for young people
Altogether Better Yorks & Humber - a programme involving volunteer Community Health Champions engaging with communities to help them lead healthier lifestyles
Greenwich Leisure Limited London - a social enterprise that manages over 70 public leisure centres in partnership with 20 councils across the South East
Kendray Initiative Yorks & Humber - a project that has transformed the community through local action on housing, crime, employment and activities for young people
CREATE Yorks & Humber - a not-for-profit company which delivers innovative training and employment opportunities for people who have been homeless, marginalised or vulnerable.
Central Surrey Health South East - a social enterprise providing community nursing and therapy services on behalf of NHS Surrey and other partners
The Old Vic Tunnels South East - A unique performance space offering opportunities for young people to gain experience in production and be part of an innovative and diverse arts venue
Shelley Community Association Yorks - Shelley Community Association, a voluntary organisation that represents and brings together village residents
The Sweet Project A social enterprise that develops and trains students while supporting families in deprived areas
Bevendean Local Action Team A volunteer run initiative that aims to reduce anti-social behaviour and promote pride in their local community.
Disability Challengers South East - A children's charity offering exciting activities and play opportunities for disabled children and young people
Higher Croft Action Group North West - A group of volunteers making a difference to the lives of young people in Blackburn
Wotton under Edge Swimming Pool South West - Wotton under Edge Swimming Pool Club, a group of volunteer swimming enthusiasts who mobilised the whole community in support of their local pool
Christine Gibson East - An individual who brought together people from her community and worked with her housing association to make a real difference to her fellow residents.
Digi Steps South West - a social enterprise run by school pupils who wanted to share their internet and computer skills with senior citizens in their area
Anfield Breckside Community Council North  West - an umbrella group that works with 14 residents associations, linking different groups together, providing training and advice, assisting with securing funding, helping the community with planning and regeneration and resolving issues such as anti-social behaviour.
The Children's Forum South East - offering children the chance to play an active role in developing and improving local services for young people
The Welcome North West - a community centre which has been providing activities and vital services for the local community in Knutsford for over 15 years
Magic Breakfast National - A charity dedicated to ensuring every child starts the school day with the right breakfast
Orange RockCorps National - inspires people to volunteer within their community by producing concerts for which you can't buy a ticket as a reward
Blacon Community Trust North West - a social enterprise in Chester offering a wide range of community-based activities and services, all focused on 'Building a better Blacon'
Sports Traider/ Lance Haggith East - Lance Haggith runs a chain of charity sports shops offering affordable sporting goods and employment opportunities for the long-term unemployed and ex-offenders
Mitzvah Day National - a national day of social action where thousands of people take part in hands on projects top support charities and build stronger communities
Creation Development Trust Wales - a social enterprise set up to revitalise the local area in Bridgend which has become the largest timebanking scheme in Europe
Published 1 December 2011