News story
Crackdown on road works disruption in Northamptonshire
Utility firms in Northamptonshire will have to slash the disruption caused by road works, after release of the road works permit scheme.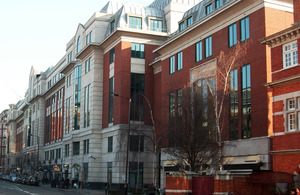 Utility firms in Northamptonshire will have to slash the disruption caused by their road works, after the government approved the Midlands' first road works permit scheme, Transport Minister, Norman Baker, announced today (29 June 2010).
The scheme - the third in the country - will give Northamptonshire County Council more powers to coordinate road works and take tough action when they overrun. It will allow the council to require anyone carrying out road works to apply for a permit in advance and to set conditions on timing, coordination or the amount of road space to be left available to road users during the works. Those companies who break the terms of their permit or work without a permit will have to pay a fine.
Norman Baker said:
I am delighted to be able to give the go-ahead for Northamptonshire's permit scheme.

Although we all know that road works are sometimes unavoidable the disruption they cause can be a hugely frustrating for drivers, cyclists, motorcyclists and pedestrians as well as costing businesses time and money. That is why it is important that councils use the powers they have to make sure utility firms carry out works with consideration for those who use the road.

We are determined to tackle problem road works and make sure that those who dig up the road are made accountable when disruption occurs.
Northamptonshire is the third council to gain approval for a permit scheme. Kent County Council and London councils had their schemes approved last year. These councils will be monitoring all the schemes to make sure that they are producing benefits for local residents and feeding this information back to the Department for Transport (DfT).
Further information
Northamptonshire County Council is the first English local authority in the Midlands to have its application for a street works permit scheme approved by the Government as meeting the requirements of the Traffic Management Act 2004 and The Traffic Management Permit Scheme (England) Regulations 2007. Northamptonshire County Council has been asked to nominate its preferred date for its permit scheme to come into effect. DfT officials will work with the Council to give effect to the scheme on that date, by means of a Statutory Instrument.
A council running a permit scheme is able to charge companies for providing a permit although any charge should cover costs and should not result in a surplus. It will be a criminal offence to work without a permit. The maximum fine will be £5,000. It will be an offence to not meet a permit condition, for which the maximum fine is £2,500. Fixed Penalty Notices, as an alternative enforcement mechanism, can also be given for working without a permit or not meeting a permit condition. Councils in England have been able to apply to the Department for Transport to run their own street works permit schemes since the relevant Regulations came into force in April 2008.
Northamptonshire County Council is responsible for the details of its scheme, and the timetable for its introduction.
Permit schemes are already in place in Kent and London.
Roads media enquiries
Media enquiries 020 7944 3021
Out of hours media enquiries 020 7944 4292
Switchboard 0300 330 3000
Published 29 June 2010