World news story
CPA Delegation visits the Maldives
Six British Parliamentarians visited Maldives on Sunday 21 July as part of a Commonwealth Parliamentary Association (CPA) delegation.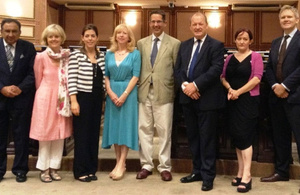 The cross-party group, made up of four MPs and two Members of the House of Lords, had meetings with the Speaker of Parliament, the Chief Justice and the Minister for Human Rights, Gender Equality and Family. They discussed the importance of the upcoming Presidential and Parliamentary elections, the need for on-going judicial reform and also raised concerns over recent cases of flogging.
The delegation also heard about the challenges faced by Maldives in making its transition to a multi-party democracy and offered British CPA support for helping to develop key democratic institutions. The parliamentarians were disappointed not to have the chance to meet with President Waheed during their visit.
Published 22 July 2013