Press release
Couple sentenced for selling dangerous slimming pills online
A husband and wife from Bootle have today been sentenced at Liverpool Crown Court for the illegal online sale of unlicensed slimming pills.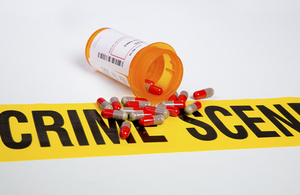 James Donegan and Melissa Donegan of Bootle, Merseyside, were both given 12 month suspended sentences and ordered to carry out 180 hours of unpaid work.
During the investigation officers from Border Force seized more than 23,000 unlicensed slimming pills sent from Hong Kong which had been declared as vitamins.
The pills were found to contain sibutramine which was withdrawn from the market in 2010 due to the risk of heart attack and stroke.
Following the seizure by Border Force MHRA investigators visited the Donegan's home where they seized more than 30,000 unlicensed slimming pills with a value of more than £15,700.
An analysis of their bank accounts found the pair had made more than £215,000 from the illegal sale of slimming pills.
Alastair Jeffrey, MHRA Head of Enforcement, said:
Unlicensed medicines can be dangerous as they may contain impurities, incorrect ingredients, and there is no way of knowing if they are manufactured to acceptable standards of quality and safety.
In this case they contained an ingredient that has been withdrawn due to the risk it posed to health. What was being sold here had the real potential to cause harm.
People involved in selling medicines like these slimming pills are only interested in your money and have no concern for your health.
Be careful buying medicines online and always buy from websites registered with MHRA and displaying the distance selling logo.
Andy Ewing, Deputy Director Border Force Postal Command, said:
Border Force plays a key role in securing our borders against the importation of all illegal substances – including unlicensed health products like this.
Thanks to my officers, tens of thousands of pills which posed a potential serious health risk have been prevented from entering the UK.
We will continue to work closely with experts at MHRA in order to ensure that those involved in this criminal trade are brought before the courts.
Background
MHRA is responsible for regulating all medicines and medical devices in the UK. Our work is underpinned by robust and fact-based judgments to ensure that the benefits justify any risks. MHRA is a centre of the Medicines and Healthcare products Regulatory Agency which also includes the National Institute for Biological Standards and Control (NIBSC) and the Clinical Practice Research Datalink (CPRD). The Agency is an executive agency of the Department of Health. www.mhra.gov.uk
Check whether a website can sell medicines online by searching our registry
Online retailers displaying the distance selling logo are registered with the MHRA to supply legitimate medicines.
Follow #FakeMeds on Twitter
Media enquiries
News centre
MHRA
10 South Colonnade
London
E14 4PU
Email newscentre@mhra.gov.uk
During office hours: 020 3080 7651 (08:30 - 17:00)
Out of office hours: 07770 446 189 (17:00 - 08:30)
Office hours are Monday to Friday, 8:30am to 5pm. For real-time updates including the latest press releases and news statements, see our Twitter channel at https://www.twitter.com/mhrapress
Published 31 March 2017