News story
Couple jailed over South London sham marriage
A couple have been jailed for attempting to enter into a sham marriage at Morden Register Office.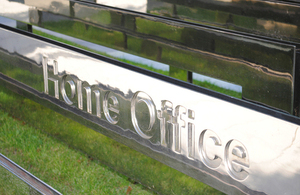 Pakistan national Arfat Hussain, 24, and Bulgarian "bride" Aneta Kaleeva, 25, were arrested by Home Office Immigration Enforcement officers moments before their ceremony was due to take place on 3 January 2013.
Officers were called in after register office staff raised suspicions about the couple, who noticed there was little interaction between the pair.
Croydon Crown Court heard Kaleeva, of Garner Road in Walthamstow, had previously attempted to marry a 28-year-old Bangladeshi man whose leave to remain had been curtailed. That marriage was cancelled at the last minute and he voluntarily departed the UK shortly afterwards.
Hussain, of Selkirk Road in Tooting, was attempting to marry Kaleeva in order to gain leave to remain in the UK as the spouse of an EEA national.
The couple both admitted perjury charges during a trial at Croydon Crown Court yesterday (Wednesday 22 January) and were sentenced to eight months imprisonment. The judge ordered two further charges of facilitation to remain on file.
Hannah Shirley, from the Home Office Immigration Enforcement Criminal Investigations team, said:
We are working closely with registrars to clamp down on sham weddings and civil partnerships. These convictions are examples of the success that we are having.

Where there are suspicions that a relationship may not be genuine we will investigate and, if necessary, intervene to stop it happening.
A sham marriage typically occurs when a non-European national marries someone from the European Economic Area as a means of attempting to gain long-term residency and the right to work and claim benefits in the UK.
The Home Office's Immigration Enforcement Criminal Investigations team consists of specialist trained immigration officers and seconded police who investigate organised immigration crime.
Anyone with information about suspected immigration abuse can contact Crimestoppers on 0800 555 111 anonymously or visit http://www.crimestoppers-uk.org.
Published 24 January 2014