Press release
Countryside Stewardship opens its doors for 2016
The second year of the Countryside Stewardship scheme is officially open for business.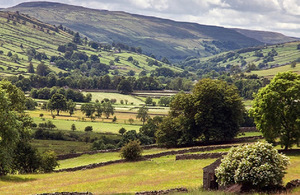 From today (14 March 2016), farmers and land managers can apply for the Mid Tier and Higher Tier of Countryside Stewardship, a competitive and targeted scheme which funds projects to restore habitats, improve water quality and woodland, reduce flood risk, protect landscapes, and provide year-round food and shelter for pollinators, birds and other wildlife.
Natural England has made a number of improvements to Countryside Stewardship this year following feedback from stakeholders. The application window opens earlier, and for longer, than it did in 2015, running from 14 March to 30 September. New and improved guidance material has also been produced for those considering applying for the scheme. This guidance has been designed in consultation with industry so it is clearer and better meets farmers' needs.
Guy Thompson, Natural England's Chief Operating Officer, said:
Through Countryside Stewardship, farmers and land managers have an important role to play in protecting and improving England's diverse landscapes and the wildlife that inhabit them.

We've taken on board the lessons learned from last year and the feedback we've received along the way from farmers, and have made a number of improvements to Countryside Stewardship. Applicants will now have more time to develop their agreements and better information to help them.

Countryside Stewardship funding goes towards projects that will make the biggest possible difference to the environment and we look forward to seeing what the year ahead will bring.
Countryside Stewardship grants will be offered to those who propose to make the best environmental improvements within their local area. Although it is open to everyone who is eligible to apply, unlike the previous Environmental Stewardship scheme, it is competitive and targeted with a single application window and single annual start date of 1 January 2017.
The Mid Tier of Countryside Stewardship offers five-year agreements for environmental improvements in the wider countryside, such as reducing diffuse water pollution or improving the environment for birds, pollinators and farm wildlife.
Higher Tier specifically focuses on environmentally important sites, including commons and woodlands, where the more complex management requires support from Natural England or the Forestry Commission, including tailoring of options.
Application packs can be requested from Natural England by calling 0300 060 3900. Those thinking of applying for the Higher Tier, including woodland support, will need to have submitted an initial application by 30 April. Mid Tier application packs will need to be requested no later than 31 August so Natural England can send out the maps and evidence requirements in time for farmers to develop their application and submit it by 30 September.
Natural England will be contacting everyone who has Higher Level Stewardship or Entry Level Stewardship agreements expiring this year to let them know which scheme they will be most suited to and what support is available.
See other important Countryside Stewardship application dates for 2016.
See the main Countryside Stewardship page for more information, including guidance material.
Published 14 March 2016