Counter-proliferation Minister visits nuclear conference at UN
Foreign Office Minister Alistair Burt has arrived in New York to participate in talks on the Nuclear Non-Proliferation Treaty (NPT).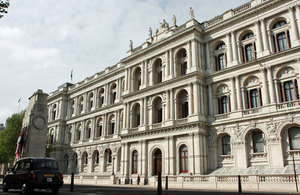 Taking place from 25- 26 May 2010, the trip is Alistair Burt's first overseas visit since taking his position at the Foreign Office.
During the visit the Minister is meeting a number of Heads of Delegation to the Review Conference of the NPT. He will also deliver a UK statement at a United Nations Security Council debate on "Maintenance of international peace and security".
The 2010 Review Conference of the Nuclear Non-Proliferation Treaty (NPT) started on 3 May. Over the past three weeks, parties to the Treaty have been meeting at the United Nations to discuss the three pillars: disarmament, non-proliferation and peaceful uses of nuclear energy. The UK delegation is working hard for a collective agreement when the Conference concludes on 28 May.
The NPT entered into force in 1970 and is considered the cornerstone of international architecture on nuclear non-proliferation.
Published 25 May 2010