Councils should help older people live at home for longer
Housing Minister Grant Shapps and Communities Minister Andrew Stunell today called on councils to use every opportunity under the New Deal for…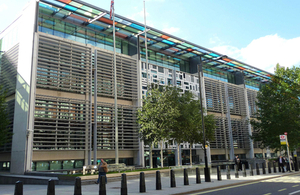 Housing Minister Grant Shapps and Communities Minister Andrew Stunell today called on councils to use every opportunity under the New Deal for Older People to give elderly people more choice and control over where they live, so they are not pressured to sell their home or move into residential care.
Mr Shapps said councils should learn from the Government-backed FreeSpace project piloted by the London Borough of Redbridge, where elderly homeowners will be helped to downsize to rented accommodation that better suits their needs, but without requiring them to sell their home.
Under the scheme the council will arrange for elderly people to move into rented accommodation, and take responsibility for maintaining and letting their property at an affordable rate. Homeowners will benefit from the rental income from their home, which will be passed back into their estate at an agreed date.
Ministers have hailed the win-win project as a future model for councils across the country - helping the elderly keep their homes while living in more comfortable accommodation, and at the same time increasing the availability of affordable family homes. 
Under the New Deal for Older People the Government is providing funding for home adaptations so older people can live in their own homes for longer, and backing innovative schemes that offer elderly people the assistance they need to live independently.
Mr Shapps also confirmed allocations of an additional £20 million for Disabled Facilities Grants - bringing the total to £200 million this year. The grants enable councils to fund adaptations to peoples' homes, helping people live independently and saving them from an unnecessary stay in hospital or going into residential care.
Housing Minister Grant Shapps said: 
For too long the housing needs of the elderly have been neglected. Older people who should be enjoying their homes have watched helplessly as their properties have become prisons, and many have been forced to sell their homes and move into residential care.

With nearly a fifth of our population expected to be over 65 by 2020, radical and urgent change is needed to ensure the nation's housing needs are met. So I would urge all councils to look at the range of opportunities under our new deal for older people, which is backed with millions of pounds of Government cash, to ensure elderly people in their area get the help they deserve.

Moving to more suitable accommodation can make a life-changing difference for some older people. The FreeSpace project in Redbridge shows what could be achieved - under this scheme older people will be able to live independently for longer and enjoy more disposable income without selling their home, and other families will benefit from living in an affordable home." 
Communities Minister Andrew Stunell said:
Too often older people struggling to live in their homes feel they have no option but to move into residential care. Giving older people more choice where they live is the right thing to do - but it also makes economic sense. Up to £26,000 can be saved each year for each person by offering an alternative to residential care.

So I would urge all councils to help people move into suitable accommodation, or use the funding we have made available to make simple alterations so older people can stay in the home they love close to family and friends.
The Government has given £51 million towards handypersons services, and is extending support for Home Improvement Agencies who will provide help and advice to older and disabled people, housing associations and charities, including:
housing advice, including help to move to more suitable accommodation if needed

small home repairs, home safety and security adaptations

energy efficiency advice; and

arranging for adaptations and home repairs to be made, including grab rails, stair-lifts and major work such as ground floor extensions.
These agencies also offer hospital discharge services - ensuring older people leaving hospital care are given the support they need to be able to recuperate in the comfort of their own homes.
Ministers have made the call to councils on the day the University of Cambridge published a report praising the Government-funded service that offers expert advice to older people about how they can meet their changing housing needs. 
The report said the FirstStop service is the type of resource that would become vital if the country is to withstand the emotional and financial challenges of a growing elderly population.
Notes to editors
FirstStop, which is funded by the Department for Communities and Local Government, is a free service offering information and advice to help older people make informed decisions about their housing, care and support options. A report today by FirstStop that analyses different options for meeting the housing needs of older people, including the FreeSpace scheme, can be found here: www.firststopcareadvice.org.uk/downloads/resources/helping-older-people-choose-the-right-home-for-them-an-introduction-to-the-costs-and-benefits-of-providing-advice-and-suppor-1-2012_155.pdf
An evaluation report of the FirstStop service, published by the University of Cambridge, can be found here: www.firststopcareadvice.org.uk/news/item-report-backs-governmentfunded-older-peoples-advice-service–b03da.aspx?ao=1
Twitter
Keep up to date with the Department by following us on Twitter (external link).
Media enquiries
Visit our newsroom contacts page for media enquiry contact details.
Published 17 January 2012