Councils and businesses to rebalance local economy
Supporting economic growth through local enterprise partnerships.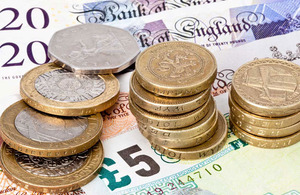 The government today set out plans for local enterprise partnerships that will bring together councils and business on an equal footing with one voice, replacing the current Regional Development Agencies.
In a joint letter sent to councils and business leaders today, Business Secretary Vince Cable and Communities Secretary Eric Pickles have asked them to consider forming new local enterprise partnerships that can provide strategic leadership in their local areas and create the right environment for business success and economic growth.
Eric Pickles, the Communities Secretary said:
If you want to rebuild a fragile national economy you don't strangle business with red tape and let bloated regional quangos make all the decisions. Urgent action is needed to rebuild and rebalance local economies so that new businesses and economic opportunities spread across the country.

The solution needs to be local - we know that when councils and local business work hand in hand they can drive economic growth together and places can be transformed. Local enterprise partnerships are central to this vision which is why we are asking them what they need.

By giving up central control we will put democratic accountability back into the local economy making it responsive to the needs of local business and local people.
Vince Cable, the Business Secretary added:
We are determined to rebalance the economy towards the private sector, so it's important we create a more effective structure to drive economic growth and development across the country.

We want to a structure that reflects the real interest of enterprise and local councils - local enterprise partnerships will provide that vision and then take on the task of renewing local economies and tackling local barriers to growth. Today we are asking them to tell us about their vision and I'm looking forward to what they've got to say.
The Cabinet met today in Bradford, the coalition Cabinet's first ever meeting outside London to discuss how we can reopen Britain for business.
Deputy Prime Minister Nick Clegg today confirmed a £1 billion Regional Growth Fund to help areas and communities at risk of being particularly affected by public spending cuts, saying that; "we want to create the conditions for growth and enterprise in the regions."
The government believes that business is the driver of economic growth and innovation, and that we need to take urgent action to boost enterprise, support green growth and build a new and more responsible economic model.
This focus on private enterprise will particularly help places that have been dependent on the public sector for too long. 
Further details of the Regional Growth Fund and the creation of local enterprise partnerships will be set out in the forthcoming White Paper on local and regional growth.
Published 29 June 2010