Press release
Council Tax freeze and sensible savings 'will deliver fairer deal for hardworking families'
Provisional local government finance settlement for 2015 to 2016 has been published.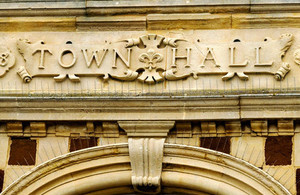 Local Government Minister Kris Hopkins today (18 December 2014) called on town halls to take up the offer of extra government funding to freeze Council Tax for hardworking families for a fifth successive year as he published the provisional local government finance settlement for 2015 to 2016.
Since 2010, the government has worked with councils to freeze Council Tax. This campaign has brought average bills in England down by 11% in real terms. This is worth the equivalent of £1,075 to the average Band D taxpayer and compares to a period between 1997 and 2010 when bills more than doubled.
Ministers have also empowered local residents with the right to a referendum should any council propose to hike bills above a national threshold, which will remain at 2%.
Challenging the sector to deliver a fairer deal for hardworking families, the minister was clear sensible savings must be made to keep Council Tax down and protect frontline services.
As set out in the Autumn Statement, this government is putting the country's finances back on track and substantial savings to public spending will be needed. As local government is expected to spend more than £114 billion this year – around a quarter of all public spending – it must play its part in reducing the inherited deficit.
Alongside the settlement, ministers have published a new independent study outlining the scope for how councils can make hundreds of millions of pounds of sensible savings. This report includes examples of how councils have made sensible savings through better policies, new technology, collaborating with each other, taking early action and working with the private and charitable sectors.
Some of the top town hall savings include the outsourcing of customer services in Barnet, which guarantees the council savings of £125.4 million over a decade, Kirklees saving £20 million through a 'one council' approach where human resources and business support services were brought together and the number of senior managers reduced and how Sheffield saved £1.5 million by bringing services into the digital era and shifting housing benefit claims online.
Mr Hopkins said:
Every bit of the public sector needs to do their bit to pay off deficit left by the last Administration, including local government which accounts for a quarter of all public spending. This government will continue to deliver a fair settlement to every part of the country, as part of our long-term economic plan.

We have been working to give hard-working people greater financial security by taking action to keep Council Tax down. There is extra money on the table for all councils which pledge to freeze Council Tax bills next year and we would urge them to take it to help their residents with the cost of living.

The local government settlement is fair to all parts of the country – north and south, rural and urban, city and shire – therefore every council should be able to deliver sensible savings while protecting frontline services for local taxpayers.
The settlement once again leaves councils with considerable spending power and rewards those that prioritise housing and growth.
However, those facing the highest demand for services continue to receive substantially more funding. For example, Middlesbrough has a spending power per household of £2,441 which is £871 more than the £1,570 per household in Windsor and Maidenhead.
Today's fair funding deal arms councils with a significant average spending power of £2,083 per household. The average spending power reduction for councils in 2015 to 2016 is just 1.8%.
Taking into account the additional transformation money the government is giving councils to improve services this reduction falls to 1.6%.
This government is committed to rural areas, which is demonstrated by the way our fair settlements have helped to close the urban-rural gap in spending power. This year ministers will provide an additional £15.5 million to support the most rural authorities to recognise the challenges they may face in delivering services.
Office address and general enquiries
2 Marsham Street
London
SW1P 4DF
Contact form http://forms.communiti...
General enquiries: please use this number if you are a member of the public 030 3444 0000
Published 18 December 2014