Press release
Could you help save lives in a disaster zone?
Inventors can now get funding to develop ideas that could help save lives in a humanitarian crisis, thanks to a new fund backed by the UK Government.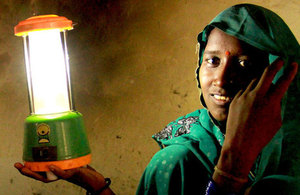 The £3.3 million fund will support designs that can help improve access to water and sanitation in a disaster zone. Anyone can submit their ideas online and the best solutions will be given £12,000 ($20,000) to turn their idea into a reality.
Diseases caused by dirty water and poor sanitation account for 80 per cent of deaths in children under two during humanitarian emergencies.
Justine Greening, International Development Secretary, said:
The British public has shown that they will not turn their backs on people affected by humanitarian crises. Their response to Typhoon Haiyan in the Philippines saved thousands of lives and helped the country back onto its feet.

By harnessing great British ingenuity we can save many more lives. With this new fund anyone, from garden shed enthusiasts to engineering specialists, can get involved in the aid effort and transform our response to future disasters.
Kim Scriven, Programme Manager for the Humanitarian Innovation Fund (HIF), said:
The threats and challenges faced by those caught up in disasters and crises are some of the world's most pressing – whether they are in Syria, South Sudan or the Philippines.

We hope that by opening some of these challenges up to the widest possible range of people, we will be able to tap into new ideas and inspiration, and make a real difference to the lives of people in humanitarian crises.
The HIF initiative, managed by Enhancing Learning and Research for Humanitarian Assistance (ELHRA), will initially focus on two challenges:
Lighting latrines: Design a lighting system for individual latrines that is cheap, sustainable and difficult to steal or vandalise. In camps set up during a humanitarian emergency, toilets are rapidly constructed and are not lit at night. This means women, in particular, feel unable to use them or are threatened or abused while doing so.
Managing solid waste: Design a new incinerator, compactor or recycling method that is rapidly deployable, cost-effective and easy to use.
Notes to editors
The Lighting Latrines challenge launched on Thursday 16th January and carries a standard award of $20,000 for successful entries. The Managing Solid Waste challenge, for which the grant amount may change, is due to launch later this month. For more information or to submit an idea go to http://www.innocentive.com/hif
As well as these two open challenges, the HIF WASH Innovation Fund will also support Accelerated Innovation events for more complex challenges. These will bring together aid agencies, businesses and academics already working in the sector to collaborate and create partnerships that can develop and test new ideas.
Full details of the WASH Innovation Fund can be found on the HIF website
Enhancing Learning and Research for Humanitarian Assistance (ELHRA) manage the Humanitarian Innovation Fund, backed by the UK's Department for International Development and the Canadian Government.
General media queries
Follow the DFID Media office on Twitter - @DFID_Press
Published 16 January 2014