Cornish floods – Caroline Spelman statement
Following a visit to Cornwall yesterday to see the devastation caused by the floods, the Secretary Of State Caroline Spelman has given the following written statement to the House of Commons.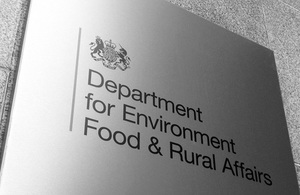 Following a visit to Cornwall yesterday to see the devastation caused by the floods, the Secretary Of State Caroline Spelman has given the following written statement to the House of Commons:
Members will be aware of the serious flooding that affected parts of Cornwall in particular on Wednesday 17 November, causing disruption and distress to many people. At its height, 10 Flood Warnings were in place though these have now been removed.
The flooding was caused by very heavy rainfall from Tuesday evening onwards. 38.8 mm fell in one hour at Mevagissey. This resulted in significant surface water and river flooding, causing widespread travel difficulties and damage to more than 250 properties. Affected areas include St Austell, Par, Pentewan, Bodmin, Luxulyan, Lostwithiel, St Blazey, St Blazey Gate, Polgooth, Launceston, and Mevagissey. The issues faced varied from place to place, requiring different local responses. The Environment Agency intends to hold clinics in each community to address the issues and build resilience.
Across Cornwall, around 3,000 properties in vulnerable areas were protected as a result of flood defence schemes. These included up to 100 on the River Fowey at Lostwithiel.
An Extreme Rainfall Alert was issued by the Flood Forecasting Centre on Tuesday afternoon, highlighting the risk of very heavy rainfall overnight. This Alert allowed local authorities to prepare to respond. The emergency has rightly been dealt with by responders at the local level who are best placed to make decisions and take action according to local needs.
Helicopters were on stand-by but not needed for flood rescue, though one medical evacuation was carried out. There was some fast moving water, but no major injuries or missing persons have been reported. Many residents were, however, evacuated and spent the night away from home.
The Prime Minister has spoken to the Leader of the Cornwall County Council and heard first-hand how local authorities are dealing with the situation. I visited the areas affected on Thursday to meet some of the people affected and see how agencies responded. The Council held a series of public meetings on Wednesday evening in Lostwithiel, St Blazey and Mevagissey to provide residents and councillors with the latest information and to offer support and advice.
We have all seen on television just what an effect the flooding has had on homes, businesses and communities. It causes significant disruption and we express our sympathy to all those affected and also wish to pay tribute to all who have been involved in responding to this emergency, in particular those who worked so hard throughout Wednesday. This shows what can be done by communities working together.
The Government will continue to work with local authorities to help people rebuild their lives, although we know sadly that it takes time for homes and buildings to dry out. The Department of Communities and Local Government is ready to consider any application for Bellwin assistance from the local authorities affected. Once the damage has been assessed, CLG will be happy to discuss the best way forward with local councils.
The insurance industry has a key role to play in assisting the recovery process. The Association of British Insurers has said that insurers' first priority will be to ensure that every claim is dealt with as quickly as possible and has put advice on its website for people who have been flooded by the heavy rain in Cornwall. At a recent flood summit on 16th September, Government, insurers and other stakeholders agreed to continue to work in partnership towards 2013 when the current agreement between insurers and government expires.
As a Government we are committed to ensure that flood and coastal erosion risk is managed effectively. We have started the implementation of the Flood and Water Management Act, providing for greater local leadership and partnership to address local flood risks. We are also protecting forecasting and warning services, and incident response, and prioritising the risk-based maintenance of existing defences. It is clear from the response the lessons of Sir Michael Pitt's report on the summer 2007 floods are being learnt.
Defra will be spending at least £2.1 billion on flood and coastal erosion risk management over the next four years. We intend that, by March 2015, 145,000 households will be better protected.
I want to assure Members that the Environment Agency, and their local emergency partners including the local authorities, are being extremely active and doing all they can to prevent flooding in areas currently at risk.
If people remain concerned about flooding they should visit the Environment Agency's website or telephone their Floodline on 0845 988 1188.
Published 19 November 2010