Press release
Corby shows how housing is building Britain's recovery
Kris Hopkins visits Corby to see how the town is enjoying a boost from housebuilding.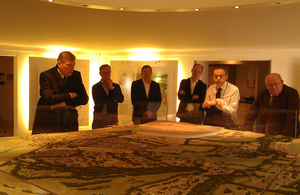 Housing Minister Kris Hopkins today (9 January 2014) visited Corby to see how the town is enjoying a boost from housebuilding thanks to government support to unlock a stalled housing scheme.
The minister visited the Prior's Hall Park site in the town, a new development that will cover almost 1,000 acres and include 5,100 new homes, 4 new schools, 500 acres of parkland and over 60,000 square miles of commercial space.
This previously stalled development has been unlocked with £4.8 million government cash from the Get Britain Building programme, funding 169 new homes and essential infrastructure that will open up the remainder of the site to a range of housebuilders.
Mr Hopkins met with young apprentices who have benefited from new housebuilding jobs in the town. He also visited the Corby Enterprise Centre for high-tech businesses. Opened in 2010, the centre is now home to 47 businesses, including Electric Corby, who are now pioneering cutting-edge, low carbon homes on the unlocked Prior's Hall site.
The minister said it proved the government's efforts to boost housebuilding were working and reaping rewards for the wider economy.
Housing Minister Kris Hopkins said:
This government is determined to get Britain building again. So I'm delighted to be in Corby today to see how our efforts are making a difference.

Homes are now being built on this previously stalled site, with thousands more in the pipeline. That means new homes for hard working families, and thousands of jobs for young people in the town.

But Corby also shows how our support for housing is giving a boost to the wider economy, with high-tech British companies like Electric Corby getting the chance to develop and grow their businesses through opportunities on housing sites unlocked with government cash.

It's all part of our long-term economic plan to make Britain a country on the rise again, with world-beating companies and the right opportunities for hard working people.
Measures in the Autumn Statement included a £1 billion 6-year investment programme that will fund infrastructure needed to unlock new large housing sites like Corby, to deliver around 250,000 homes across the country.
And Corby's set to benefit from an additional £2.1 million for delivering 495 new homes in the area last year - including 126 affordable homes.
Published 9 January 2014