COP26 sees UK businesses lead the world in climate change commitments
Britain's largest businesses are leading the way in the global transition to net zero emissions, with over half of FTSE100 companies now committed to eliminating their contribution to climate change by 2050.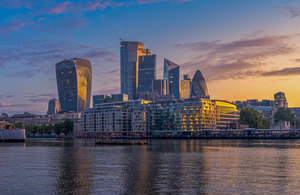 Over half of the UK's largest businesses have committed to eliminate their contribution to carbon emissions by 2050, representing a total market capital of over £1.2 trillion and combined annual turnover of £700 billion
today's milestone means pledges have tripled in the past 10 months, cementing British businesses' position in leading the way in the world's transition to a low carbon economy
as the world gathers together at the UN COP26 climate summit, the UK government is calling on the global private sector to follow the UK's example and join the UN Race to Zero
As of today, 60 of the UK's FTSE 100 companies have signed up to the United Nation's Race to Zero campaign – the largest ever global alliance committed to achieving net zero carbon emissions by 2050 at the latest, backed by independent experts and organisations to ensure everyone in the Race is following through on meeting their targets – signally a strong shift in the UK economy to a greener future.
Accelerating momentum from UK businesses means that pledges have more than quadrupled since November last year, now representing total market capital of over a trillion pounds and combined turnover of £700 billion.
Globally, over 5,200 companies of all sizes have now joined the UN Race to Zero, representing sectors like transport, technology, manufacturing, retail, and finance. Nearly half of these are British businesses, with the UK private sector demonstrating international leadership in global efforts to tackle climate change.
The Race to Zero acts as a kickstart for companies going green, guiding their actions in the transition to net zero and positioning businesses at the forefront of the global race to develop new green technology, kick-start new industries and attract private investment.
Business and Industry Minister Lee Rowley said:
Businesses both large and small, across all sectors of the global economy, have a crucial role to play in both reducing their environmental impact and developing the green technologies that will set us on the path to net zero.

With over 2,500 UK companies joining the Race to Zero, including the majority of our largest firms, the UK is leading the way in showing how going green doesn't just make sense for the planet - it makes business sense too.
Also announced today, over 2,000 small businesses from across the UK have pledged to reduce their emissions and join the Race to Zero through the Together For Our Planet Business Climate Leaders campaign, which was launched by the Prime Minister earlier this year to help small businesses go green.
As these businesses are demonstrating, taking action to tackle climate change does not need to be at the expense of a growing economy – between 1990 and 2019, the UK's economy grew by 78% while carbon emissions fell by 44%, the fastest reduction in the G7.
Taking action on climate change will help businesses grow, seize new opportunities, create new jobs, encourage investment and adapt against the challenges of a changing planet, while reducing emissions can lower businesses' running costs, save them money and attract new customers – ultimately helping them maintain a competitive advantage locally and globally.
The commitments build on the government's recently published Net Zero Strategy, which outlines measures to transition to a green and sustainable future, helping businesses and consumers to move to clean power, supporting hundreds of thousands of well-paid jobs and leveraging up to £90 billion of private investment by 2030.
As the world gathers at the UN Climate Summit COP26 in Glasgow, the government is calling on business of all sizes – both in the UK and around the world – to take urgent action and demonstrate their climate leadership by signing-up to Race to Zero and setting out clear pathways to get to net zero. 
UK Net Zero Business Champion Andrew Griffith said: 
As the world seeks bold solutions to combat climate change, we need businesses of all sizes to put the environment at the heart of their operations, making tangible climate commitments that helps chart our path to net zero emissions by 2050.

By setting out ambitious climate targets, Britain's leading businesses are sending a clear signal to world leaders at COP26 that now is the time to act. I hope it encourages other companies across the world to outline their own net-zero ambitions and grasp the economic opportunities of this global green industrial revolution.
Nigel Topping, UN High Level Climate Champion for COP26, said:
The mobilisation of so many of the FTSE100 behind our common goal to deliver the promise of the Paris Agreement is further proof that the global economy is irreversibly aligning to keep 1.5C alive. By joining Race to Zero, these leading companies are stepping up to drive the innovation needed and show that net zero is both technologically possible and economically attractive.
Today's milestone announcement in UK business climate commitments follows the Heroes of Net Zero awards, a competition launched by the UK government in September 2021 to find the UK's best small businesses taking innovative steps to cut greenhouse gas emissions. The winners were selected 2 November 2021 at the official COP26 event, The Heroes of Net Zero Awards by Andrew Griffith MP, the UK's Business Net Zero Champion, James Close from NatWest Group, Gabrielle Giner from BT, and Marta Smart from SSE. Winning an exclusive prize package worth £4,500, the winning small businesses were: Design Abled and VMI.TV Ltd.
These collective efforts from the government to encourage businesses to go green all form part of the UK-wide Together for our Planet campaign, which the government launched in June 2021 to build momentum in the lead up to COP26, showcasing how people across the UK are going One Step Greener.
At COP26 and beyond, the UK government is calling on all businesses, of all sizes, to pledge to go One Step Greener and sign up to the globally-recognised UN Race to Zero Climate Commitment, which helps organisations become more energy efficient, switch to electric vehicles and active travel, and become landfill free. By doing so, they can protect the planet and their business, and help us start a green business revolution.
UK FTSE100 companies who are leading the Race to Zero include:  
GlaxoSmithKline, pharmaceutical industry company: GSK recently announced a research and development programme to reduce greenhouse gas emissions from rescue metered dose inhalers, which are responsible for a large proportion of GSK's emissions. The company is committed to using 100% renewable electricity by 2025, with major solar and wind energy investments in the UK and US.
Emma Walmsley, Chief Executive Officer, GSK, said,
The science is clear that nature loss and climate change are already harming human health. So we must act now to protect and restore the planet's health if we are to protect and improve people's health. That's why GSK has committed to have a net zero impact on climate and net positive impact on nature by 2030.

For GSK, our sustainability commitments are an integral part of our strategy, making our business more resilient, protecting our operations and helping us to achieve health impact on a global scale while delivering returns for our shareholders.
National Grid: National Grid is committed to playing its part in the acceleration towards a cleaner future. It has reduced its emissions by 70% and has committed to reaching Net Zero by 2050 through actions such as converting its global fleet to alternative fuel vehicles. By 2025, it will have 8GW of interconnector capacity, between the UK and continental Europe, and estimates this will prevent around 100 million tonnes of CO2 emissions between now and 2030.
John Pettigrew, CEO of National Grid said:
The decarbonisation of the energy system is one of the biggest challenges facing our world, and we're committed to playing our part in the acceleration towards a cleaner future, that will deliver economic growth and opportunities for all.
Reckitt, multinational consumer goods company: Reckitt's ambition is to be net zero across its value chain by 2040. The company has already reduced operational greenhouse gas emissions by 53% per product, in part by switching to renewable energy as part of its approach driven by science-based targets. All of Reckitt's factories in Europe, India and the USA, as well as in its hygiene business, are now using 100% renewable electricity.
CEO Laxman Narasimhan, Reckitt, said:
At Reckitt, our purpose is to protect, heal and nurture in the relentless pursuit of a cleaner and healthier world. We have an ambition to be net zero by 2040, ten years ahead of the 2050 target, and are proud to stand with other FTSE companies as part of Race to Zero. Only by working together will we address the climate crisis and realise a clean and healthy future for all.
Sainsburys: Sainsbury's has cut its carbon footprint by 47% in the last 17 years despite its space increasing by over 40%. To further cut emissions, Sainsbury's will install 100% LED lighting across its supermarkets by the end of this year, reducing lighting energy consumption by 70% and store energy consumption by 20%. This follows an extensive financial investment of £320 million in the past ten years, funding more than 3,100 sustainable initiatives.
Simon Roberts, Sainsbury's CEO said
This week, the world has come together at COP26 with the aim of taking ambitious steps to tackle the climate crisis and we are proud to play our part as Principal Supermarket Partner. As a UK retailer, sourcing from countries around the world, we know that we have an important part to play in reducing the impact of our business on the environment.

It's why we are taking action to cut our emissions, reducing them by 14% in the last two years, and have brought our net zero target forward five years, to 2035. We join the government in calling on all businesses set out clear pathways to net zero and help the transition to a low carbon economy.
SSE, multinational energy company: SSE is investing £7.5billion in low-carbon energy and electricity projects, including building the world's largest offshore windfarm in Dogger Bank, off the coast of Yorkshire. It is also investing in Scotland's largest windfarm in Seagreen off the coast of Angus, and one of Europe's most productive onshore windfarms in Viking on the Shetland Islands – supporting thousands of jobs and creating opportunities.
SSE CEO Alistair Phillips-Davies said:
The UK has decarbonised its power sector more rapidly than any developed economy since the landmark Climate Change Act was passed in 2008 and as the UK's clean energy champion we're delighted to have played our part in that.

Setting bold targets for the future is all well and good, but they need to be followed up with action – and that's what the Race to Zero is all about. We're building more offshore wind than anyone on the planet and ramping up our investment in decarbonising technologies to help accelerate the net zero transition. We hope to see more companies setting target but also delivering the urgent action needed to address the climate crisis.
Unilever: Unilever has committed to achieving net zero emissions across their value chain by 2039. As part of their progress towards this ambition, Unilever is already using 100% renewable grid electricity in its operations around the world and will transition to 100% renewable energy and a 100% EVs or hybrids global car fleet by 2030. The company will also invest in projects that positively address climate change and protect nature through their €1 billion Climate & Nature Fund.
Alan Jope, CEO of Unilever, said:
I'm yet to meet a credible business leader that doesn't recognise the threat of climate change and the urgent need to deliver the Paris Agreement. Net-Zero is now table stakes, but credible action plans are the evidence of true intent. Unilever is committed to net-zero by 2039 and has a shareholder approved Climate Transition Action Plan. This is critical for our future success, while making our brands more relevant and appealing today.
Croda, British speciality chemicals company: Croda is investing in biotechnology to develop ingredients and manufacturing processes that take place at much lower temperatures than traditional chemical reactions, requiring less energy to run them. The business is also investing in renewable fuel sources, including at its manufacturing site at Hull, building a biomass boiler to supply high pressure steam for the site, fuelled by locally sourced, sustainably managed forestry residues.
Steve Foots, CEO Croda said:
By delivering on our ambition to be net zero by 2050, as well as playing our part in mitigating the devastating impacts of climate change, we will be supporting our customers in meeting their challenging climate-related goals, magnifying our impact.
Notes to editors
In November 2020, the Prime Minister appointed Andrew Griffith MP as the UK's Net Zero Business Champion to support the country's business community to make credible plans to net zero by 2050 or earlier. In his role Mr Griffith works closely with Business Secretary, Kwasi Kwarteng and COP26 President Alok Sharma to encourage as many UK businesses as possible to commit to net zero targets, harnessing the potential of British firms as they launch new products, attract new investment and create new jobs. 
The COP26 President has already brought together a set of international COP26 Business Leaders which meets quarterly to accelerate private sector commitment to the zero-carbon economy across sectors, and across supply chains. 
The FTSE 100 is an index composed of the 100 largest companies listed on the London Stock Exchange (LSE). These are often referred to as 'blue chip' companies, and the index is seen as a good indication of the performance of major companies listed in the UK. 
The brand 'Together for our Planet' was unveiled in November 2020, marking the one year to COP26 milestone. Together for our Planet campaign aims to engage the whole country in the conversation around climate change in the run-up to COP26, inviting businesses from every corner of the UK to join us in the Race to Zero. 
Race To Zero is a global initiative, backed by science-based targets, to commit businesses, cities, regions, investors and universities to achieve net zero emissions by 2050 at the very latest.  Spearheaded by the United Nations Framework Convention on Climate Change (UNFCCC), it rallies together leadership and support from businesses, cities, regions, investors for a healthy, resilient, zero carbon recovery. 
Published 4 November 2021