Consumers set to benefit from claims management crackdown
Plans unveiled today will mean that Claims Management Companies that provide a poor service could be forced to pay compensation.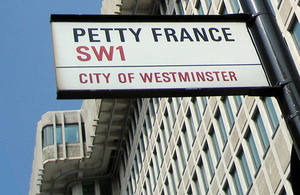 Good news for consumers who deal with Claims Management Companies (CMCs) as plans unveiled today will mean any CMC that provides a poor service could be forced to pay compensation or provide another form of redress.
Thousands of consumers who have been let down by a small number of CMCs currently take their complaints to the Regulator. To better support the consumer, the Government has announced that from 2013 the Legal Ombudsman will handle claims management complaints. The Ombudsman has the legal power to ensure consumers can get compensation where appropriate.
This change will also enable the Claims Management Regulation Unit, which will remain within the Ministry of Justice, to refocus its resources on working with the claims management industry to improve standards and take wider action against CMCs who consistently breach the rules.
Head of Claims Management Regulation Kevin Rousell said:
'This reform is a win for consumers and provides yet another tool to help stamp out malpractice in the industry.
'Our Claims Management Regulation Unit will continue to target those CMCs who do not comply and we will work in partnership with the Legal Ombudsman to root out those CMCs that take advantage of consumers.'
Chief Legal Ombudsman, Adam Sampson, said:
'This is great news for the public and consumers as we have significant powers of redress to help protect them. We are confident we can support the claims management regulator to improve standards across the industry.
'Our priority now is to ensure we're ready to start accepting complaints once all the necessary arrangements are in place.'
Until this complaints service is in operation consumers can continue to go to the Regulator.
Notes to editors
For further information or if you would like an interview please call the Ministry of Justice press office on 020 3334 3536.
For further information on the Legal Ombudsman please call 07881 415 696.
Section 161 of the Legal Services Act 2007 allows the Legal Ombudsman Scheme to be extended to claims management services.

View further information about the Claims Management Regulation unit

The Claims Management Regulation unit issues licences to CMCs through the Compensation Act 2006.

More than 400 CMCs have been cancelled, suspended or warned in figures released in the CMR annual report 2011/12.

A consultation which looks at strengthening the rules on CMCs is currently open and we invite anyone with an interest to have their say.
The Information Commissioner's Office (ICO) has further information on unsolicited marketing calls and SMS texts.
Published 28 August 2012