News story
Consumer Focus Wales: Appointment of Chair
Vivienne Sugar's role will commence from 25 January 2011. She will lead the organisation as the Government consults on how to reform and streamline…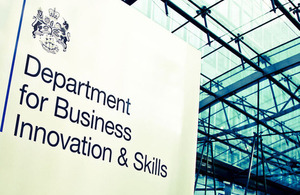 Vivienne Sugar's role will commence from 25 January 2011. She will lead the organisation as the Government consults on how to reform and streamline the UK's consumer protection bodies.
Vivienne Sugar said:
"I am proud of the work we have done in the last 12 months. We have put money back in people's pockets, challenged unfair business practices, created an evidence base for sound public policy and taken the voice of the consumer, particularly the vulnerable and disadvantaged into the heart of Government. Consumers in Wales, as individuals and communities, are facing difficult times. We must carry on working hard for them and ensure that in the future people will continue to have a strong consumer champion to speak out and challenge those who provide goods and services."** **
Minister for Consumer Affairs, Edward Davey said:
"I am pleased to re-appoint Vivienne Sugar. She has been a powerful leader for Consumer Focus Wales over the last year and I look forward to continuing to work with her in the future. Vivienne will continue to make a major contribution to the representation and protection of consumers. She will also play a vital role in ensuring that a more streamlined system delivers robust consumer protection."
Notes to editors:
---
---
Vivienne Sugar was appointed to a second term as the Chair of Consumer Focus Wales on 25 January 2011.** **She is a Fellow of the Chartered Institute of Housing having previously been Director of Housing at both Cardiff and Newport. Vivienne was Chief Executive of the City and County of Swansea between 1995 and 2003. In 2005 she became Vice President of Swansea University and between 2005 and 2009 she was Wales Advisor to the Joseph Rowntree Foundation. In July she was appointed as a Member of the Council of the Property Ombudsman. She is also a Consultant to Government and Local Government.

You can find out more information on Consumer Focus Wales here:
http://www.consumerfocus.org.uk/wales/
The Government has carried out a review of the landscape of consumer protection bodies to rationalise their functions and eliminate confusion and duplication, strengthen local delivery, and produce a more effective service for consumers at a lower cost to the taxpayer.
The Government will publish a consultation early next year with proposals to streamline and reform the UK's consumer protection bodies. Most consumer enforcement will pass to local authority trading standards. For details, see BIS Press Notice and Secretary of State Vince Cable's Statement of October 14 here:
http://nds.coi.gov.uk/content/Detail.aspx?ReleaseID=415972&NewsAreaID=2
BIS' online newsroom contains the latest press notices, speeches, as well as video and images for download. It also features an up to date list of BIS press office contacts. See [http://www.bis.gov.uk/newsroom](http://www.bis.gov.uk/newsroom) for more information.
Notes to Editors
Contact Information
Name BIS Press Office Job Title
Division COI Phone
Fax
Mobile
Email NDS.BIS@coi.gsi.gov.uk
Name Olivia Campbell Job Title
Division Department for Business, Innovation and Skills Phone 020 7215 5363 Fax
Mobile
Published 21 January 2011