News story
Consultation on draft National Policy Statements for energy
The government's draft National Policy Statements for energy infrastructure will be strengthened, it was announced today. Charles Hendry, Minister…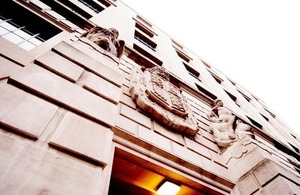 The government's draft National Policy Statements for energy infrastructure will be strengthened, it was announced today.
Charles Hendry, Minister of State for Energy said:
For large energy projects we need to give industry maximum certainty, so that if sound proposals come forward, they will not fall victim to unnecessary hold-ups.

We have decided to take a further look at the Appraisal of Sustainability of our draft Energy Policy Statements to make sure that they are fit for purpose. Taking this decision now is essential to safeguard our long-term goal of a sustainable and secure energy supply.
Plans for the first new nuclear power station to begin generating electricity by 2018 remain on course.
Notes for editors
1) DECC has already consulted on the Energy National Policy Statements. Having considered the responses to that consultation, we have decided to take a further look at the Appraisals of Sustainability (AoSs) of the NPSs. The reconsultation will provide a chance to look at the reworked AoS and the changes to the draft NPSs.
2) Under the Planning Act 2008 an appraisal of sustainability (AoS) must be carried out on the policies set out in any NPS before it is designated. An AoS is an assessment of the environmental, social and economic impacts of implementing a policy, and includes comparison with reasonable alternatives to the preferred policy.
3) The Nuclear Development Forum, taking place today, brings together senior figures at CEO level from the nuclear industry, regulators, wider supply chain companies and skills bodies who are involved in making a new generation of nuclear power stations in the UK a reality.
4) The full statement to Parliament is below:
Written statement by Charles Hendry MP, Minister of State for Energy
Today I am announcing that the Government will be launching a re-consultation in the autumn on the draft energy National Policy Statements following the consultation undertaken by the previous administration earlier this year, and in particular due to changes which have been made to the Appraisal of Sustainability for the Overarching Energy National Policy Statement.
The revised statements will give investors the certainty they need to bring forward proposals to maintain security of supply and ensure progress towards decarbonisation and plans for the first new nuclear power station to begin generating electricity by 2018 remain on course.
We intend to present the finalised statements to Parliament for ratification next Spring. A detailed implementation plan for planning reform on major infrastructure - including transitional arrangements and a revised timetable - will be published later in the summer.
Published 15 July 2010