Consular work in 2011: Nick's story
As Deputy Head of Mission in Tripoli at the start of the uprising, Nick Latta played a crucial role in the evacuation of British nationals in Libya.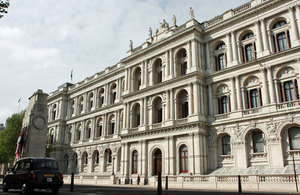 "The evacuation was the busiest I have ever been. We were trapped in the Embassy, unable to go home for 6 days, working 18 hour shifts and sleeping on the floor. We ran two simultaneous evacuations: one from Benghazi (1000kms away) via very patchy mobile telephone links and the other running a daily flight out of Tripoli back to UK.
Tripoli airport was madness: a tent city grew up overnight as thousands of migrant workers tried to flee just as commercial flights stopped flying. The police and local activists kept control of the crowds with brutal violence. In the middle of which we were trying to load planes with British, Commonwealth and EU citizens, walking children through crowds of people bleeding and groaning from the last baton charge. Surreally, I volunteered for the airport shift to lift the stress of managing the crisis!"
The British Government assisted the departure of well over a thousand people from Libya. Nick, with the help of the Rapid Deployment Team sent from London led the last evacuation flight home:
"Most surreal moment: lady insisting she really did not want to go to Gatwick, couldn't I arrange a flight for her to Tunisia! Best moment: sitting back in the chair on the plane and having people coming up to me throughout the flight to thank me for getting them out. I had been trawling through the airport waving the Union Jack above my head to try to attract the attention of various oil workers we believed were somewhere in the airport."
Nick is no stranger to Consular crisis work. In 2010, he led a Rapid Deployment Team to Spain to help British nationals get back home when all European flights were grounded due to volcanic ash from Eyjafjallajokull in Iceland.
Published 22 December 2011