World news story
Conserving 'wild' Burma
UK government supports training for media on illegal wildlife trade awareness and launch of writing competition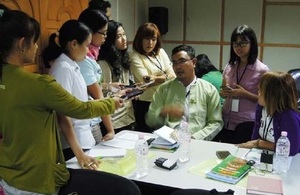 From local beer stations touting wildlife whisky to the mass sale of wild birds for merit release, journalists and editors attending a workshop on wildlife trade in Burma, quickly found countless stories on wildlife trade and crime to report on.
The three-day workshop, organised by TRAFFIC and the British Embassy, introduced writers and editors from 18 local media organisations to global wildlife trade and the issues arising from wildlife trafficking in the country.
Participants heard presentations on the scale of trade in wild animals and plants in the region and did not take long to find examples of this themselves in and around the city during the practical session that followed.
Speakers from the Press Council and the Ministry of Environmental Conservation and Forestry's Nature and Wildlife Conservation Division addressed participants on media legislation and reporting challenges, as well as wildlife legislation and enforcement efforts.
The Wildlife Conservation Society held a special session on Myanmar's endemic turtles, while Vietnam's Thanh Nien News led sessions on developing wildlife story ideas and investigative reports.
The workshop also included a panel discussion on the importance of reporting wildlife trade and crime.
Jeremy Eppel, Deputy Director for International Biodiversity, Ecosystems and Evidence of the UK's Department of Environment, Food and Rural Affairs, updated the participants on the UK's international efforts in the fight against wildlife crime, and later met with Burmese Government officials to discuss future collaboration.
Claire Beastall, TRAFFIC's Training and Capacity Building Co-ordinator in Southeast Asia, said:
When asked what was required to stem the illegal wildlife trade in the country, participants and trainers talked about increasing awareness amongst government agencies, the media and the public.
Whilst the crisis affecting wildlife here, which includes highly threatened species such as tigers, asiatic black bears and pangolins, is well known amongst conservationists and specific agencies, it seems there is low awareness of the true scale of the problem or what efforts are being taken to tackle it in other sectors of society.
British Ambassador Andrew Patrick said:
For the UK, combating the illegal wildlife trade is not just an environmental issue. It is an issue that threatens national and international security – with links to organised crime and the drug trade. It is a health and social issue which can undermine sustainable development.
And it is an economic issue – forming part of the unregulated, un-taxed black economy. Media reporting on this important issue will be key to tackling it and I would like to thank TRAFFIC for having run the workshop.
Wild writing competition
To encourage continued interest in the subject, TRAFFIC and the British Embassy have launched a wildlife trade writing contest for journalists living and working in Burma. Entries are to be submitted by January 16th 2015 and three winners are expected to be announced in February.
The grand prize is a visit to a national park in India where the winning journalist will have the opportunity to witness wildlife in an area where they are facing the threat of poaching to supply the illegal trade in Burma and beyond. Rules and details of the contest can be viewed here:
http://www.traffic.org/storage/Myanmar-writing-competition-rules-English.pdf
http://www.traffic.org/storage/Myanmar-writing-competition-rules-Burmese.pdf
Further information
The workshop to help raise awareness of wildlife trade among media practitioners and subsequently, the public. It was identified as a need by enforcement agencies in Burma at a separate workshop co-organised by TRAFFIC in January 2013. This latest workshop was funded by the British Embassy's Bilateral Programme Fund (BPF)
You can learn more about TRAFFIC's activities on their website: http://www.traffic.org/
You can learn more about UK efforts to protect global wildlife on the website of the UK's Department for Environment, Food and rural Affairs
Published 11 December 2014