News story
Concert spectacular tops off Invictus Games
The Invictus Games ended with a spectacular 5-hour concert headlined by the Foo Fighters at the Queen Elizabeth Olympic Park in London.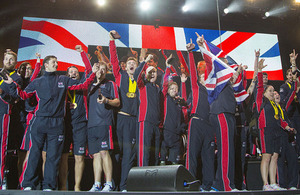 The concert was opened in true military style by the pipes and drums of 2nd Battalion The Royal Gurkha Rifles.
Then 10 drummers from the Band of Her Majesty's Royal Marines HMS Collingwood joined 2009 Britain's Got Talent winners Diversity on stage in front of the 26,000-capacity crowd on the South Lawn in front of the stadium and iconic ArcelorMittal Orbit sculpture.
The line-up featured sets from the Kaiser Chiefs, Bryan Adams, Rizzle Kicks, former Household Cavalry officer James Blunt and Military Wives Choirs, whose combined efforts have raised over half-a-million pounds for military charities.
It was an impressive celebration of all those who had competed in and supported the inaugural international sporting event for wounded, injured and sick service personnel.
But, fittingly, the crowd saved their loudest cheers for Captain David Henson, the Team GB captain, who, after raising 3 cheers for Prince Harry, then touched hearts by paying tribute on behalf of all the competitors to their friends and families. He said:
Without you guys we'd be in pieces at home. But with your support we're here today kicking the arse out of life.
Launched by Prince Harry earlier this year, the Invictus Games used the power of sport to inspire recovery, support rehabilitation and generate a wider understanding of and respect for those who serve their country.
Throughout the Games, the inspiring and uplifting personal stories of the competitors highlighted the role that sport and rehabilitation have played on their road to recovery, often opening doors to a new future.
Royal Navy weapons engineer Mickaela Richards' story is just one among many. Her involvement in the Games, where she won 2 gold medals for athletics and a bronze in the powerlifting, has inspired her.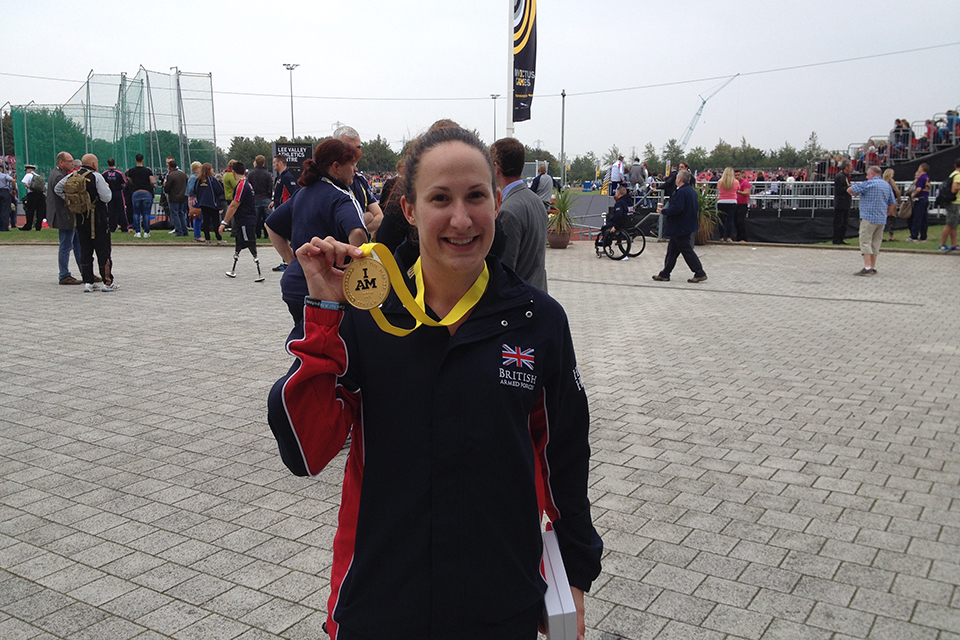 Before the accident that left her with a severe brain injury, she took no part in sport. She said:
After my injury I was in a dark place. I couldn't get out of bed, I hated everything about life because I wasn't all that I had been before my injury. But now I've been through all the pain, I want to see how far I can go in my events.

The support you get during rehabilitation is amazing. After my accident I started training with Dave Henson, the Team GB captain. They are just 100% behind you. I don't know where I'd be now without that.
There was an added surprise on stage for the British team during the special medallion ceremony honouring all who had competed in the Games. Just before the final section of the celebratory closing ceremony concert, Team GB was treated to its own special award presentations.
The presenters of these awards were individuals who had helped these remarkable men and women through recovery and rehabilitation.
Doctors, nurses, physiotherapists, psychotherapists and occupational therapists from Selly Oak, Headley Court and hospitals across the country took to the stage in an emotive and significant moment that recognised the efforts of those, without whom, many of these competitors would not have been in a position to compete.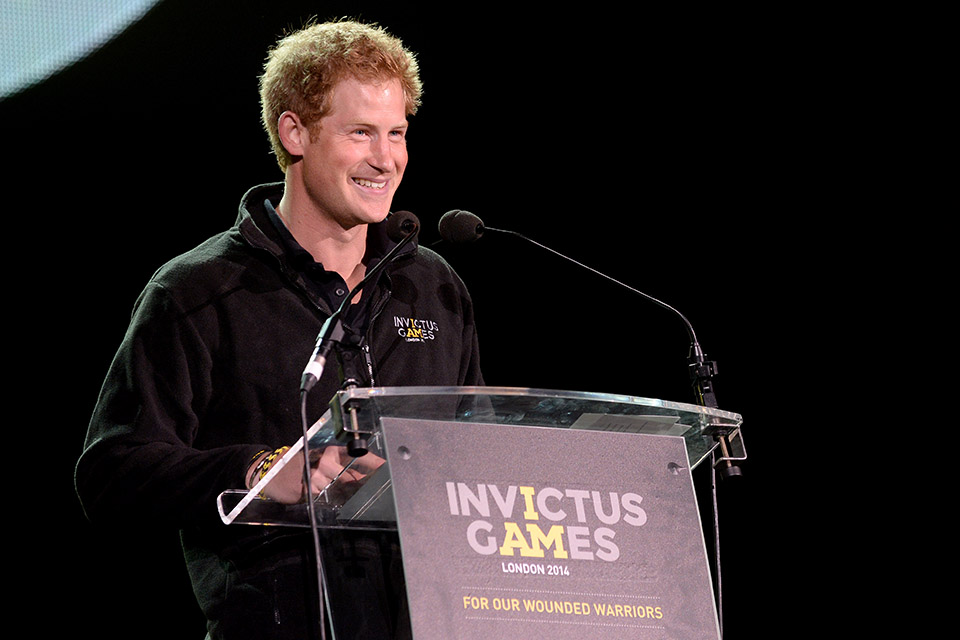 Prince Harry's vision has been the driving force behind the development of these Games. He said:
These Games have shone a spotlight on the 'unconquerable' character of service men and women and their families, their 'invictus' spirit. On Wednesday evening I said the Games would mark the end of one chapter and the beginning of a new one.

All of the competitors have tonight received a participation medal; for some, this is every bit as significant as the gold medals are to the winners.

These Games have been about seeing guys sprinting for the finish line and then turning round to clap the last man in. They have been about teammates choosing to cross the line together, not wanting to come second, but not wanting the other guys to either. These Games have shown the very best of the human spirit.
He then called on everyone to help in building a future for our wounded, injured and sick service personnel, asking for 'respect, admiration and recognition of their considerable talent… they are a credit to our nation and to each nation here at these Games'.
And, to rapturous applause, he called on other countries to take up the challenge for the next Invictus Games.
Published 15 September 2014