Concern for Nasrin Sotoudeh
Minister for the Middle East voices concern ahead of trial of Iranian human rights lawyer.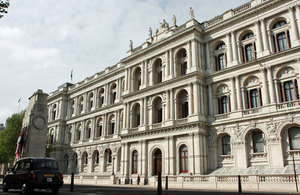 Commenting on the forthcoming trial of human rights lawyer, Nasrin Sotoudeh, in Iran, Minister for the Middle East and North Africa, Alistair Burt said today:
"I am deeply concerned about Nasrin Sotoudeh who is due to stand trial on 15th November. The charges against her include working with a human rights organisation. Her case highlights the grave threat that lawyers in Iran face for defending their clients. The growing list of those who have been arrested, remain in prison or have been forced to flee the country for doing their normal work is a stain on Iran's international reputation.
"Next week, the UN General Assembly will vote on a resolution condemning Iran's appalling human rights record. I hope that the international community will come together to help protect those who courageously stand in the face of oppression and give a voice to the victim of Iran's abuses."
Published 12 November 2010