Press release
Conceptions in young adults at record low in England
New Office of National Statistics (ONS) figures show conception rate among under 18 year olds dropped in 2012.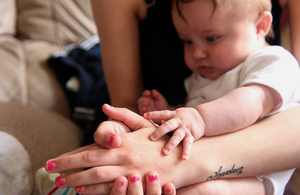 Public Health England (PHE) welcome new figures showing the conception rate among under 18 year olds dropped by 9.8% to 27.7 per 1000 in 2012, an all-time low for England. Published today (25 February 2014) by the Office of National Statistics, the number of under 18 conceptions also fell, by 10.3% to 26,157, as did under 16 conceptions (5,131).
Since 1998, the under 18 conception rate has decreased by 40.6% – with reductions of up to 64% in some top tier local authorities in England during this period. However, regional variations remain striking - with conception rates in some areas nearly 90% higher than the England average.
Professor Kevin Fenton, Director of Health and Wellbeing at PHE, said:
Today's data show us high conception rates are not inevitable, if young people receive the right support. Teenage pregnancy and early motherhood can be associated with poor educational achievement, poor physical and mental health, social isolation and poverty, so it is vital this downward trend is continued.

PHE is committed to supporting local government and partners to further reduce under 18 and under 16 conceptions, and provide support for young parents, as an important route to tackling inequalities, reducing child poverty and improving public health.
Alison Hadley, Teenage Pregnancy Knowledge Exchange Director at the University of Bedfordshire, and PHE advisor on this issue, said:
Continued investment and dedication over the last 10 years has paid real dividends but the England under 18 conception rate remains higher than other Western European countries.

We need to find ways to both sustain the significant reductions we've made and accelerate progress. Evidence and lessons from local areas shows us young people need comprehensive sex and relationship education in and out of school, easy access to young people-centred contraceptive and sexual health services, and targeted support for those most at risk. Progress needs to be everybody's business with strong local leadership and all practitioners and services in touch with young people supporting them to make informed choices.
Ends
Note to Editors
The 2012 conception data are available on the ONS website. For data queries, contact the ONS press office on 0845 604 1858 or by email at media.relations@ons.gsi.gov.uk.

Reducing the under 18 and under 16 conception rates is one of the key priorities of the Department of Health's Framework for Sexual Health Improvement (2013), which asks local authorities to work with partners to use the evidence base and learning from successful areas to make further progress.

The Government set a target to halve the teenage conception rate in England by 2010, when compared with 1998. The Teenage Pregnancy Strategy ended in 2010 but the Public Health Outcomes Framework (2013 to 2016) includes 'under 18 teenage conception rate' as one of three sexual health indicators. Under 18 conceptions are also one of the national measures of progress on child poverty.

Public Health England's mission is to protect and improve the nation's health and to address inequalities through working with national and local government, the NHS, industry and the voluntary and community sector. PHE is an operationally autonomous executive agency of the Department of Health. www.gov.uk/phe Follow us on Twitter @PHE_uk
Infections press office
PHE press office, infections
61 Colindale Avenue
London
NW9 5EQ
Published 25 February 2014