Press release
Composting site operator fined £50,000 after breaching its permit
Smells from a compositing site next to Cambridge Research Park made nearby workers feel sick, a court has heard.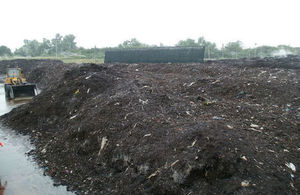 Operator of the site, AmeyCespa (East) Ltd, was fined £50,000 and ordered to pay £13,336 costs after a court heard that in July 2014 an employee at a nearby company was suddenly sick at work.
The firm that the employee worked for had had an increase in sickness rates and eventually gave up its lease on the property, at a large penalty cost, and relocated.
Cambridge Magistrates' Court heard that an Environment Agency biowaste specialist was commissioned to visit the site, and a report, which included a list of appropriate measures AmeyCespa should take to prevent or minimise odour, was served on the company two months before the incident.
The report said more emphasis should be placed on the management of the composting process to prevent the release of odours instead of relying on deodorising misting sprays.
Mr Richard Banwell, prosecuting for the Environment Agency, told District Judge Ken Sheraton: "AmeyCespa failed to implement appropriate measures until after the incident in July and the serving of three enforcement notices."
The company had also failed to submit an adequate odour management plan to the Environment Agency before the July offence.
Magistrates heard that enforcement notices required the company to take actions to comply with their permit. By June 2015 all but one of the actions had been complied with, the final one was not completed until December that year.
Mr Banwell said AmeyCespa had been negligent in failing to prevent or minimise odours and failing to respond to advice from the Environment Agency to change its composting processes and management until after the incident.
He said: "There was a history of non-compliance at the site and there was a serious effect on human senses and it was persistent enough that it led to a widespread change in behaviour of those exposed to it."
"At a nearby business, staff complained of feeling sick, gagging and sore eyes and throats. Staff could not take regular outdoor breaks and sickness rates went up."
AmeyCespa admitted breaching its permit. Mr Richard Matthews QC, mitigating for AmeyCespa, said "AmeyCespa takes this extremely seriously and is genuinely sorry and regretful."
In sentencing the company on 8 September 2016, District Judge Sheraton said: "There had been a great deal of adverse effects on human health, quality of life and air quality. I therefore impose a fine at the maximum of my sentencing powers"
After the hearing Environment Agency officer Lucy Bellotti said: "This case shows how permitted waste facilities can significantly impact on the daily lives of people living and working near to them. We are committed to regulating poorly performing waste sites and will use our full range of enforcement powers when operators fail to comply with their permits."
The company pleaded guilty to:
On or about 9 July 2014 at a waste management park off Ely Road, Waterbeach, Cambridge you failed to comply with condition 3.4.1 of an Environmental Permit reference EPR/LP3593LM, in that you failed to ensure that emissions from the activities were free from odours at levels likely to cause annoyance outside the site, as perceived by an authorised officer of the Environment Agency, and that you failed to use appropriate measures to prevent or where that is not practicable, to minimise, the odour.
Contrary to Regulation 38(2) Environmental Permitting (England and Wales) Regulations 2010
Published 21 September 2016