Press release
Company Director fined for illegal waste activity in Manchester
At Manchester Magistrate's Court on 21 October 2015, Mr Tony Cash, a Director of Birch Skip Hire Limited pleaded guilty to 7 charges under the Environmental Permitting (England and Wales) Regulations 2010 and has been fined £14,000 plus £7,000 costs.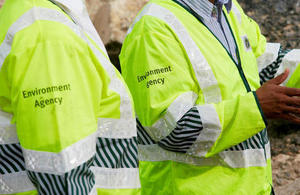 The charges against Mr Cash were brought by the Environment Agency and relate to waste management activities operated by Birch Skip Hire Limited on 2 sites off Rondin Road, Ardwick, Manchester. Waste levels on just 1 of the sites amounted to 16,000 tonnes - over 80 times in excess of the permitted limit.
The Company operated household, commercial and industrial waste transfer stations at 2 sites in Ardwick, Manchester and had a history of poor compliance, as far back as 2013. Excessive waste levels resulted in a number of permit breaches with a risk of serious pollution at both sites.
The charges are the conclusion of a lengthy investigation by the Environment Agency relating to serious environmental offences. The Company and director, Anthony Cash, imported excessive amounts of waste on to the sites and failed to comply with enforcement and suspension notices requiring the removal of the waste.
Gordon Whitaker, Environment Manager at the Environment Agency, said:
These charges send out a strong message to waste offenders, that environmental crime can lead to serious enforcement action in the criminal courts and where appropriate individual Directors of companies holding environmental permits will be held accountable.
The company was given an absolute discharge as it has ceased trading and has made an application to Companies House to be struck off. However, the court may review this decision if circumstances change.
Anyone who believes any illegal waste activities are taking place is urged to report the matter to the Environment Agency's 24 hour incident hotline 0800 807060 or CrimeStoppers on 0800 555111 so that we can investigate. Illegal waste activities pose a significant threat of harm to the environment and local communities, so it is important that everyone plays their part in stamping out waste crime.
You can call the Environment Agency on 03708 506 506 to find out how to responsibly manage any waste your business produces or visit managing your waste page.
Published 29 October 2015