Press release
Companies ordered to pay for water pollution
A Devon company producing energy from agricultural waste at Menchine Farm, Tiverton, and the site owner, have been fined over £10,000 and ordered to pay £7,019 costs for polluting 2.5km of the River Dalch.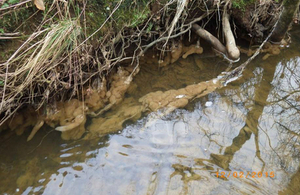 Site operator, Greener For Life Energy Ltd, and site owner and permit holder Nomansland Biogas Ltd, both pleaded guilty at Exeter Magistrates' Court on 23 June 2016 to negligently polluting the watercourse last year and contravening the requirements of an environmental permit.
The case was brought by the Environment Agency following a report of suspected pollution in the River Dalch on 11 February 2015.
The Environment Agency's investigation found that the source of pollution – the escape of liquid silage effluent into the River Dalch - was from Menchine Farm where the biogas plant was being operated. Silage effluent is an acidic liquid produced during the silage making process which can be a serious pollutant, especially if it drains into a watercourse. At Menchine Farm, agricultural waste and energy crops collected from nearby farms are turned into gas in a process known as anaerobic digestion. Both companies accepted they were negligent in causing liquid silage liquor to drain off their site into the river.
An Environment Officer who visited the site found extensive sewage fungus along a stretch of the river with 100 per cent sewage fungus coverage for 1km from the discharge point and a total of 2.5km of the River Dalch impacted with significant sewage fungus growth. The presence of sewage fungus is indicative of significant organic pollution.
Richard Tugwell, Environment Officer investigating for the Environment Agency, said:
Silage effluent has a severely polluting effect - it is 100 times more polluting than raw sewage. Starving the river of oxygen has led to a significant adverse effect on water quality, animal health and flora.

We are satisfied with the outcome and pleased the courts have taken this matter seriously.
It took over a week for the watercourse to return to its natural condition.
If anyone spots a potential pollution issue please report it to the Environment Agency's free 24-hour incident hotline on 0800 80 70 60.
Published 30 June 2016