Community refuse to call time on their local
Local residents in Hudswell village in North Yorkshire have got together to save their community pub.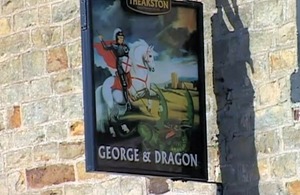 The government's Localism Bill, which aims to take power from the centre and give it directly to communities, will enable people to have a much greater say on what happens in their area.
One aspect of the bill that will do this is the Community Right to Bid, which will make it easier for people to take over cherished local assets such as their village shop or their community centre, and save them from closure. It will do this by making sure community organisations have a fair chance to bid to take over assets and facilities that are important to them.
One community that is already showing others how to take care of their local assets is Hudswell village in North Yorkshire.
When their local pub 'The George and Dragon' closed 3 years ago and looked likely to remain empty, local residents got together to take action. Forming a cooperative, members sought local investment, and about 100 members of the community put up funds that enabled them to buy the pub.
After a period of refurbishment carried out by volunteers the pub was reopened, becoming a real centre of the community, offering the local populace more than just a range of ales.
More than a pub
Martin Booth, Co-director of Hudswell Community Pub Ltd and one of the founder members of the cooperative explains it took a lot of work but the pub is doing 'alright', confounding the critics who said it would not work.
Watch Martin Booth discussing the work of the cooperative.
Video transcript (MS Word Document, 27KB)
The George and Dragon's garden is now the site for community allotments, the pub includes space for a small shop, a library as well as offering internet access and laptops available to rent out.
Talking about how the village has been affected by the Cooperative's efforts Martin Booth said;
The village has really come together, the amount of community spirit that has been generated by the project is quite incredible. It's more than a pub, it's a centre for village life, which is always what we wanted it to be.
You can read more about the Hudswell community pub on their website.
Published 18 March 2011