Press release
Communities ministers mark the anniversary of the Srebrenica genocide
Communities Secretary Eric Pickles, Faith Minister Baroness Warsi and Minister for Communities Stephen Williams attend remembrance event.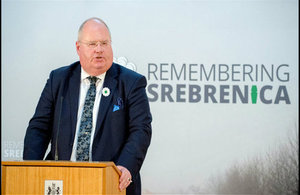 An evening of remembrance for the victims of the Srebrenica genocide, organised by the Remembering Srebrenica project, was held at Lancaster House, London and attended by Communities Secretary Eric Pickles, Faith Minister Baroness Warsi and Minister for Communities Stephen Williams.
Next year is 20 years since the genocide and this event is one of several taking place across the country to mark the anniversary of Srebrenica which is on 11 July.
One focus of the event was on the impact of the genocide on women and families. Some of the 'Mothers of Srebrenica' attended who represent the 6,000 widows and relatives who lost sons, husbands, brothers and other family members in the massacre, and who continue to share their stories and seek justice for the victims.
Speaking at the event, Communities Secretary Eric Pickles said:
This was a genocide that is a part of our recent history, it happened so close to our shores, is within our living memory and is something we should never forget.

The Mothers of Srebrenica help us to continue to remember and I am overwhelmed by their dignity and bravery to share their stories and their determination to seek justice for their loved ones and the thousands of other victims.

Together we must strengthen our communities against future acts of hatred and be ever watchful for the warning signs of intolerance.
Faith and Communities Minister Baroness Warsi said:
The Srebrenica genocide leaves an indelible mark on our recent history and shows what can happen when prejudice and intolerance destroys our communities.

We all have a collective duty to remember the thousands who lost their lives in this massacre and the many thousands more who were left behind and have to live with the unimaginable pain and violence they endured.

The Remembering Srebrenica project is so vitally important so we can learn lessons from this history and as we remember and pray for the victims we must all ensure that such horrors are never repeated and never forgotten.
Minister for Communities Stephen Williams said:
Next year will be the 20th anniversary of the genocide and it is more important than ever for us to remember the consequences of hatred and intolerance.

In April this year I made a very moving trip to Bosnia on a 'Lessons from Srebrenica' visit and it has been a privilege to recently meet some of the young people on the visit to and share their experiences. Over the next 2 years many more people will be visiting Bosnia so they too can return to their local communities and tell their stories. I hope that these visits will inspire those to raise awareness of Srebrenica and to work to improve relations in their own communities.
Further information
'Remembering Srebrenica' is a community-led programme which teaches future generations about the consequences of hatred and raises awareness of the Srebrenica genocide. It is part funded by the Department for Communities and Local Government.
The government is helping to fund places for 750 young Britons to travel to Bosnia and Herzegovina to learn lessons from the 1990s Bosnian war.
In July 1995, the Bosnian town of Srebrenica was overrun and captured by Serb forces commanded by General Ratko Mladic, despite having been declared a UN Safe Area. More than 8,000 Bosnian Muslim men and boys were systematically murdered and buried in mass graves in actions that the International Criminal Tribunal for the former Yugoslavia and International Court of Justice have determined constitute genocide.
Read more information on Remembering Srebrenica
Office address and general enquiries
2 Marsham Street
London
SW1P 4DF
Contact form http://forms.communiti...
General enquiries: please use this number if you are a member of the public 030 3444 0000
Published 10 July 2014
Last updated 10 July 2014
+ show all updates
Added a link to photographs from the event
First published.