Communities Minister urges faith groups to inspire community action
Communities Minister Andrew Stunell this week encouraged faith based organisations to share their passion and experience with others to maximise…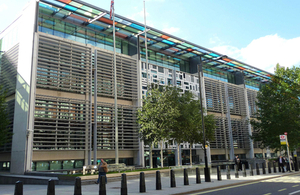 Communities Minister Andrew Stunell this week encouraged faith based organisations to share their passion and experience with others to maximise their work to help people and improve neighbourhoods.
In a major speech to representatives of groups involved with social action across the country, Mr Stunell stressed that faith based community action is a key plank of the Big Society vision. Faith based organisations are well-rooted in communities and have a long track record of successful work to address social needs. They are also able to stimulate volunteering and financial resources.
Andrew Stunell said:
Faith based organisations have long made an important contribution to local communities, and your work is going to become even more relevant in the months to come. Practical co-operation between churches, mosques, temples, gurdwaras, synagogues and the wider voluntary sector can become a huge force for good in building the stronger communities that are at the heart of the Big Society's purpose.

There are some great examples of faith based providers that are thinking flexibly and reaching out beyond their own natural constituencies, whether of faith or of location. We want more organisations to follow this lead and take advantage of the emerging Big Society to make an even bigger difference in their communities.
Making the keynote speech at the Faith Based Regeneration Network national conference in London on 19 October, Mr Stunell fleshed out the Government's Big Society plans and challenged those attending to consider how best they can harness the increasing power at the local level in order to address the needs of the neighbourhoods they operate in.
The Minister issued a number of challenges to those at the conference. He asked what Government can learn from faith based organisations and what barriers Government could dismantle that would make it easier for faith based organisations to achieve their goals.
Andrew Stunell updated delegates on work that's already taking place to foster the Big Society, including in the four 'vanguard areas'. These four places are receiving targeted Government support to help resolve the bureaucratic barriers that get in the way of locally driven community development.
The Minister went on to say that organisations and projects that bring people with different beliefs together are especially important in helping to build a stronger, more integrated society. Inter Faith Week next month will be an opportunity to celebrate and encourage inter faith dialogue and social action.
Notes to editors
1. The Faith Based Regeneration Network (FbRN) describes itself as 'the leading multi faith network for community development, community regeneration and social action'. Connecting with 9,000 faith based organisations and practitioners of social and community action, it spans all faith traditions and has Trustees from the nine main faiths in the UK. It aims to build the skills and capacity for faith based social action, and to connect communities with policy makers.
2. Inter Faith Week is being led by the Inter Faith Network. The aims of Inter Faith Week are:
to strengthen good inter faith relations at all levels

to increase awareness of the different faith communities in the UK, in particular celebrating and building on the contribution that their members make to their neighbourhoods and to wider society

to increase understanding between people of religious and non-religious belief.
Inter Faith Week 2010 will run from 21-27 November in England and Wales. For more information go to www.interfaithweek.org (external link).
Twitter
Keep up to date with the Department by following us on Twitter (external link).
Media enquiries
Visit our newsroom contacts page for media enquiry contact details.
Published 20 October 2010