Communities Minister hears the concerns of the British Chinese community
Andrew Stunell holds a roundtable meeting for members of the Chinese community, providing an opportunity to explore their concerns.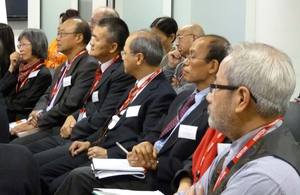 Speaking at the end of a day of discussions, workshops and presentations, Communities Minister Andrew Stunell outlined the government's commitments to equality of opportunity, tackling intolerance in all forms and to creating a stronger, better integrated society.
Andrew Stunell said:
"The Chinese community here is the largest in Europe and contributes massively to the social, economic and cultural richness of Britain.
"However, I know that some members of the community experience unacceptable racial discrimination or violence. There are also low levels of Chinese representation in politics.
"Today has been a valuable opportunity to hear some the concerns of the community and to explore ways in which they can be tackled and resolved."
Lord Wei also spoke at the event, outlining the role that all communities can play in helping to build the Big Society.
Workshops on topics including health, education and justice gave attendees a chance to explore the issues in more depth. Officials were on hand from a number of government departments to answer questions from the community.
3 presentations covering different issues faced by the Chinese community in the UK were given by the Chinese in Britain Forum, Min Quan and the BC Project.
Photographs from the event are available from the DCLG Flickr channel
Published 2 November 2010