Communities Minister announces new measures to tackle antisemitism
Communities Minister Andrew Stunell today confirmed Government action to address antisemitism, four years on from the All-Party Parliamentary…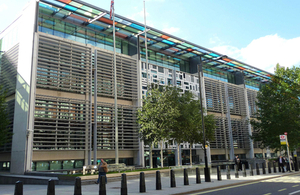 Communities Minister Andrew Stunell today confirmed Government action to address antisemitism, four years on from the All-Party Parliamentary Inquiry's report into antisemitism.
The Government will today publish a report on the steps they've taken and the significant progress that's been made, including measures to increase security for Jewish faith schools in the state sector and improving the collection of data on antisemitic incidents.
Education Secretary Michael Gove last week confirmed up to £2 million to fund tighter security measures in Jewish faith schools in the state sector. This funding will ensure children and staff will have a school environment safe from antisemitic incidents.
Ministers have also secured agreement that all police forces must now record antisemitic hate crimes, with the first official statistics published last month. This greater transparency provides the clearest picture yet of where and when hate crimes are likely to occur, thereby making it easier to target security measures.
Mr Stunell said:
It's unacceptable that such a high number of antisemitic incidents are still happening.

The measures announced today will increase protection for Jewish communities and improve our evidence base, making it easier to determine what further measures are needed. This Government is committed to increasing the number of hate crimes brought to justice, tackling antisemitism on university campuses, and challenging hate crime and extremism on the internet.

We are working towards a fully integrated society in which everyone feels able to take part without fear of discrimination or attack.

Although we've taken some big steps forward today, there's no room for complacency. We will continue to take practical, effective action to stamp out antisemitism whenever and wherever it occurs.
Jon Benjamin of the Board of Deputies of British Jews said:
The Parliamentary Inquiry marked a watershed in the understanding of antisemitism as a real issue in Britain today, but was the beginning of a process that continues to this day. The ongoing work of the cross-departmental task force is hugely important in ensuring that the Inquiry's findings are addressed.
Maintaining this momentum, Ministers will host a seminar in the spring to ensure continued progress on tackling hate crime including antisemitism on the internet.
To ensure the Holocaust is remembered, the Government has committed £750,000 for the 2011 commemoration and related educational activities and has pledged to fund the Lessons from Auschwitz Project (LfA) next year.
Notes to editors
1. Report of the All-Party Parliamentary Inquiry into Antisemitism 2006, www.antisemitism.org.uk/wp-content/uploads/All-Party-Parliamentary-Inquiry-into-Antisemitism-REPORT.pdf (external link to PDF).
Initial response in March 2007 - www.communities.gov.uk/publications/communities/antisemitismreport
All-Party Inquiry into Antisemitism: One year on progress report 2008 - www.communities.gov.uk/publications/communities/progressreport
All-Party Inquiry into Antisemitism: Government response - Three years on progress report 2010 - www.communities.gov.uk/publications/communities/antisemitismresponse
2. In May 2008 the previous Government published a progress report on the 35 recommendations in the All Party Parliamentary Inquiry into Antisemitism. Since coming into office the Coalition Government undertook to report back to Parliament on further progress in implementing the Inquiry's recommendations.
3. The Lessons from Auschwitz (LFA) Project enables sixth-form students and their teachers to take part in two afternoon seminars and a one-day visit to the former Nazi extermination camp of Auschwitz-Birkenau, in order for them to then pass on the lessons in their schools and communities. The LFA Project aims to increase knowledge and understanding of the Holocaust for young people and to clearly highlight what can happen if prejudice and racism become acceptable.
Twitter
Keep up to date with the Department by following us on Twitter (external link).
Media enquiries
Visit our newsroom contacts page for media enquiry contact details.
Published 15 December 2010